Are you wondering, how do I check the number of visitors on my website?
Having insights about visitors can help you grow your business. You can create more engaging content that people like, offer products that will sell, target new keywords to boost your organic traffic, and more.
So, in this article, we'll show you how to check the number of visitors on your WordPress site. Let's start…
Benefits of WordPress Visitor Tracking
Now, if you're still not sure why you should be tracking your website traffic, then check out these benefits.
Know Your Visitors – You can find out which country or region your visitors are from, so you can create content that solves a problem that's specific to their country and create personalized marketing messages
Identify Popular Content – Website visitor tracking can help you find out which content post is performing and getting a lot of traffic, so you can come up with similar topics
Find Out Top Traffic Source – Discover which channels drive the most traffic and focus on them instead of promoting on other sources that won't get you results
Set Business Goals Based on Numbers – Traffic stats can help you set your website goals that are backed by data, so you can grow those numbers and increase your revenue
Now, are you ready to learn how to check views on your WordPress website?
How to Check Traffic on Your WordPress Site
When it comes to tracking your website visitors in WordPress, the best plugin you can use is ExactMetrics. It makes setting up and using Google Analytics very easy.
In just a few clicks, you'll be able to add Google Analytics to your WordPress site without editing code. Plus, you get advanced tracking right out of the box, like file download tracking, outbound link clicks, affiliate link clicks, and more.
And if you want to boost your tracking features, then ExactMetrics addons can help you out. For instance, you can track your online store's performance using eCommerce addon or track form conversion using the Forms addon.
To get started, all you have to do is install the ExactMetrics plugin on your website. After installing the plugin, simply follow the setup wizard to connect Google Analytics.
Once that's done, you're ready to view the number of visitors on your WordPress site.
How to View Number of Visitors on Your Website
The best thing about using ExactMetrics is that you get to view all your reports inside your WordPress dashboard. It neatly organizes important stats in easy to understand reports.
Let's look at each report that you can use to check traffic on your website…
Overview Report
You can view the reports by going to ExactMetrics » Reports from your WordPress dashboard. The first report you'll see will be the Overview report. And right from the start, you can see how many people visited your site, the time they spent, and your site's bounce rate.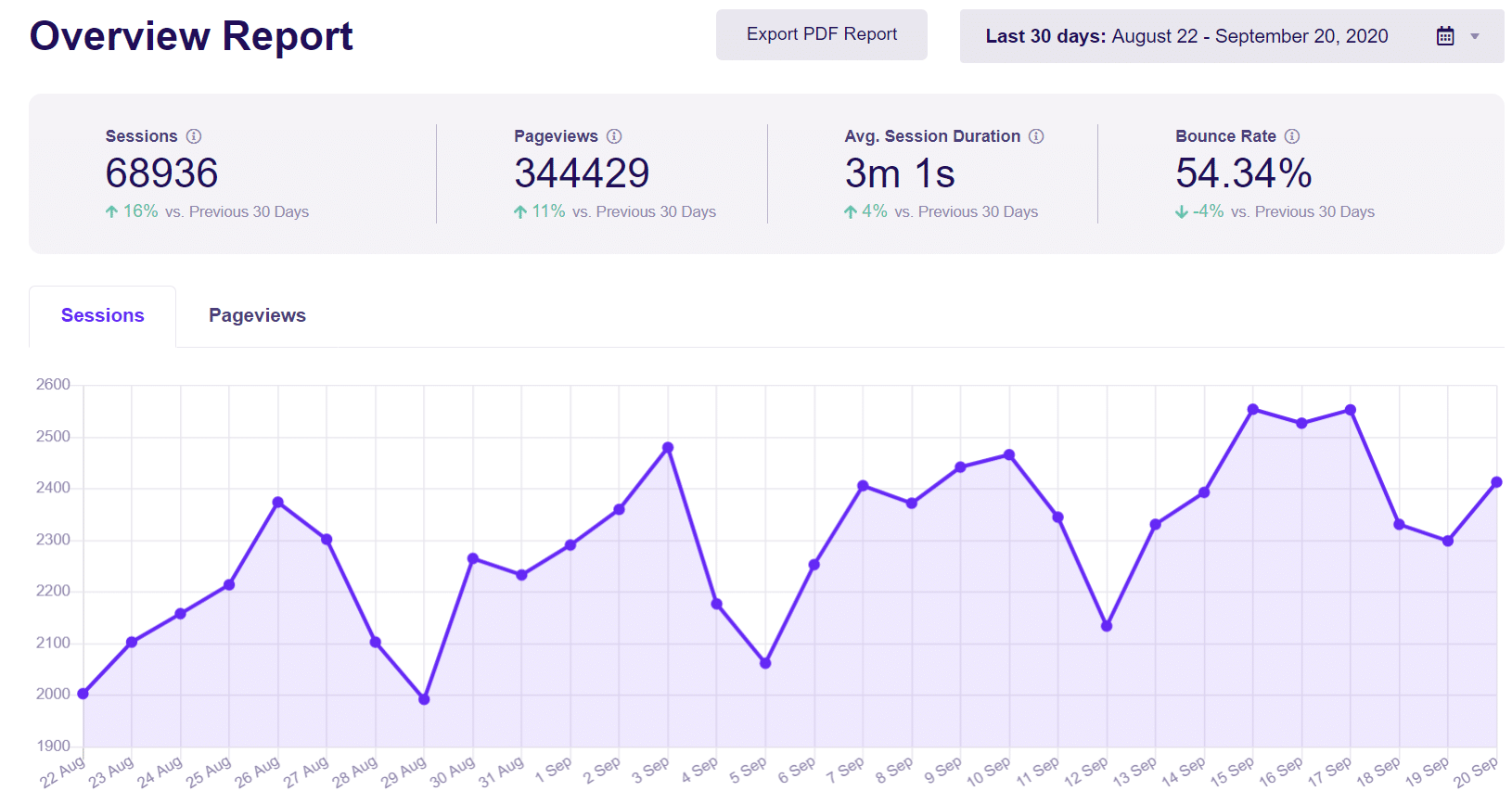 And if you scroll down, you can see the number of new visitors compared to returning visitors. It helps you see how many people are coming back to your site. By increasing your returning visitor rate, you have a high chance of getting people to buy your products.
Besides that, you can also view which device your visitors use under Device Breakdown.

Another important metric you can view is the Top 10 Countries report. It shows which region your visitors are from, so you can better understand them. Using the information, you can create personalized marketing messages or region-specific content to increase traffic.

And next to the top countries is your Top 10 Referrals. These are other websites that are sending visitors to your site. Since they're an important source of traffic, you'd want to get more visitors from these websites. You can do that by partnering with these referral sources or try to find similar websites that you can target when promoting your content.
The last metric you'll see will be of Top Posts/Pages. These are different pages or posts that get a lot of traffic. It tells you which type of content is performing and attracting visitors to your site.
Publishers Report
In Publishers report, you get more insights about your visitors. But do note that you'll need ExactMetrics Plus or higher license to view these reports.
The first metric you can track in the Publishers report is your Top Landing Pages. These are pages that are driving a lot of web traffic. For each landing page, you can see the total number of visits, average duration, and bounce rate.

Other metrics that you can view are:
Top Exit Pages – See which pages your visitors leave your website from
Top Outbound Links – Find out which external or outbound link people click the most
Top Affiliate Links – Identify your more popular affiliate
Top Download Links – If you're offering downloadable content on your site, then see which file gets the most downloads
Age and Gender – You can get demographic data about your visitors and find out their average age and gender
Interests – Find out which categories your visitors are interested in
Search Console
Now, if you're wondering which keywords your visitors use to visit your website, then you can use the Google Search Console report.
ExactMetrics helps you connect your Google Search Console with Google Analytics and you can view the report inside your dashboard.
The report shows the Top 50 Google Search Terms your site is ranking on. And you to see how many clicks, impressions, CTR (click-through-rate), and average position for each keyword.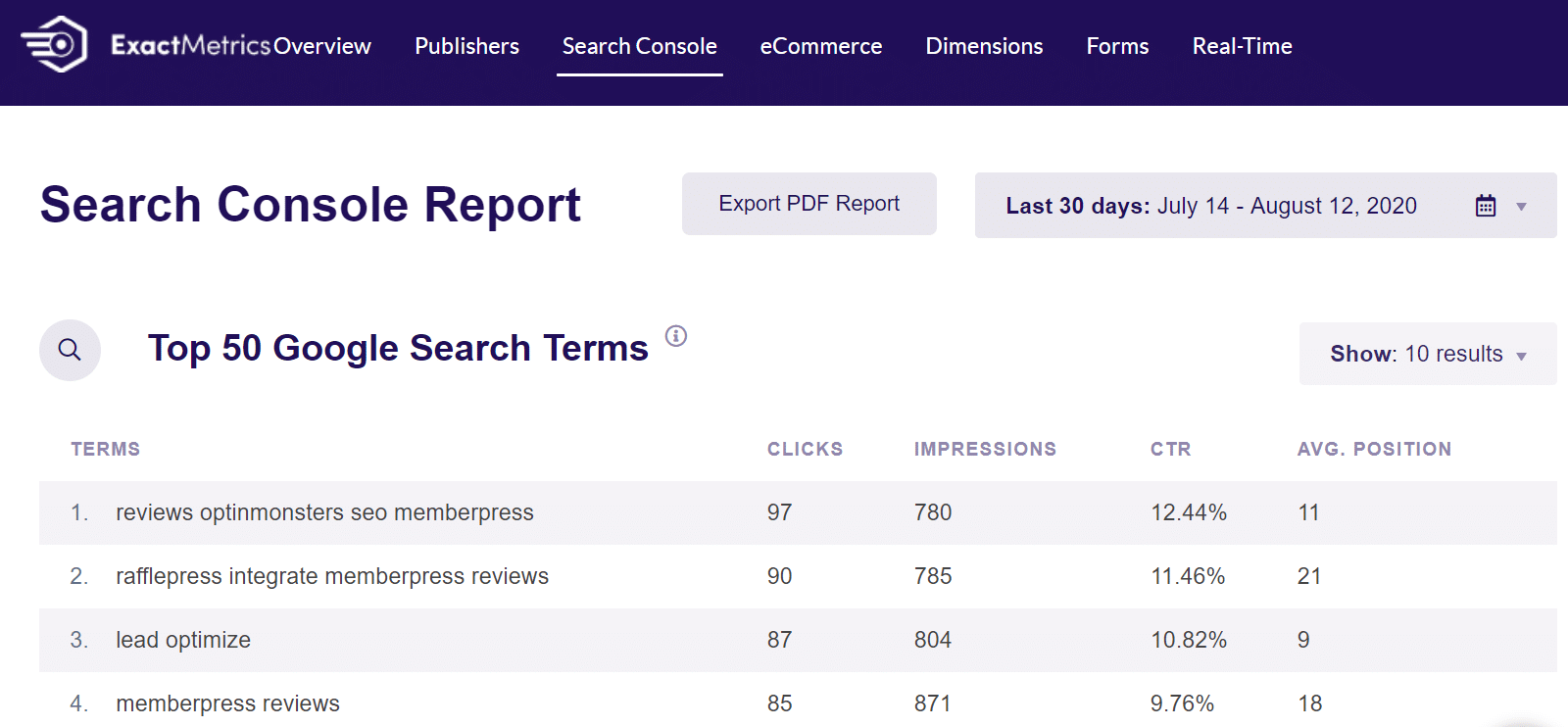 eCommerce Report
If you have an eCommerce store running on WordPress, then you can track its performance using the ExactMetrics eCommerce addon.
The addon automatically detects your online store (like WooCommerce, Easy Digital Downloads, etc.) and tracks the information in Google Analytics.
But you can also view the reports in your dashboard. Just go to ExactMetrics » Reports » eCommerce. It gives you an overview of your store's performance. You can see the overall conversion rate, total transactions, revenue, and average order value.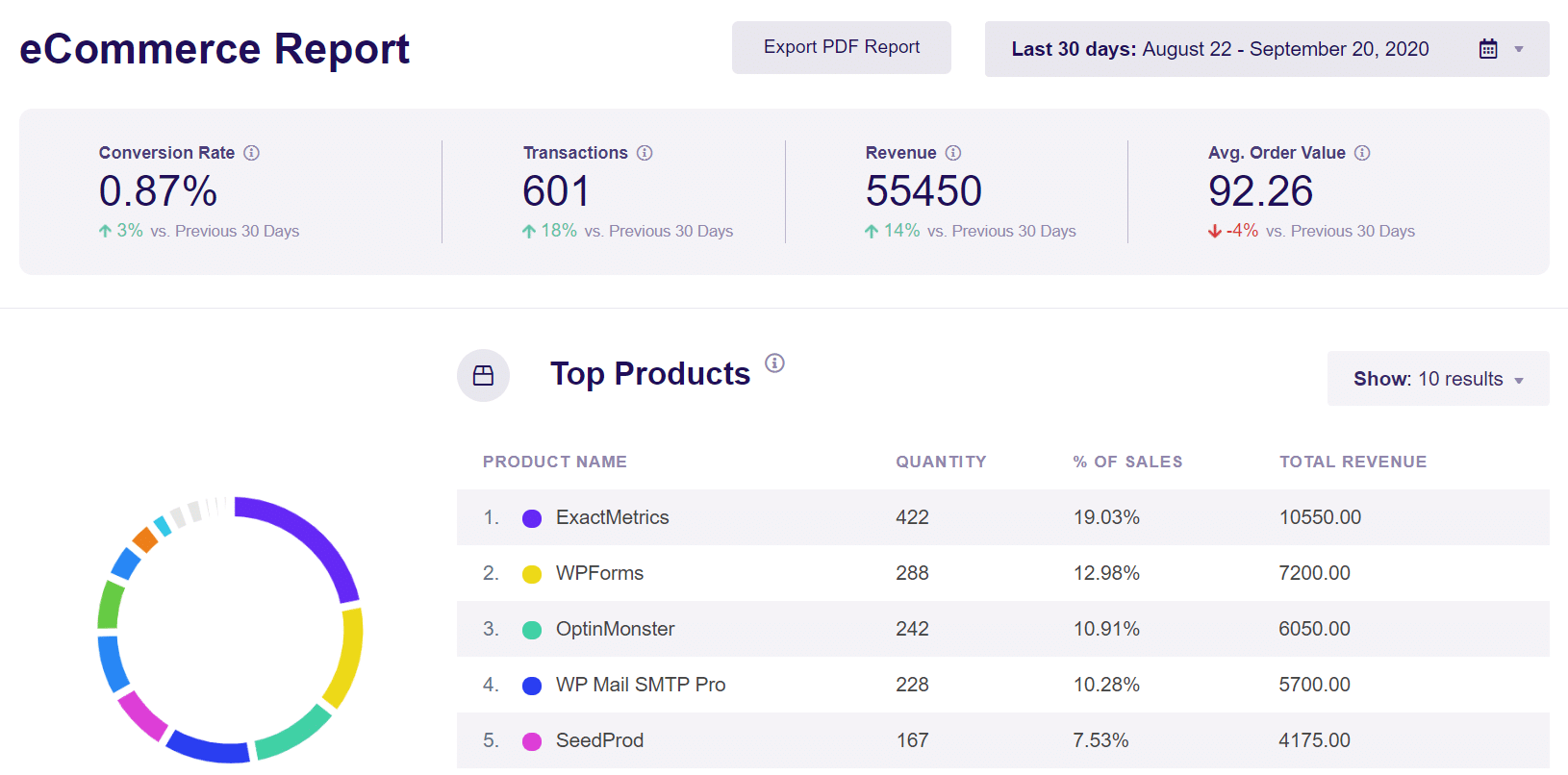 And if you scroll down, you'll see your Top Conversion Sources. These are just like referral sources and are websites that send traffic to your store.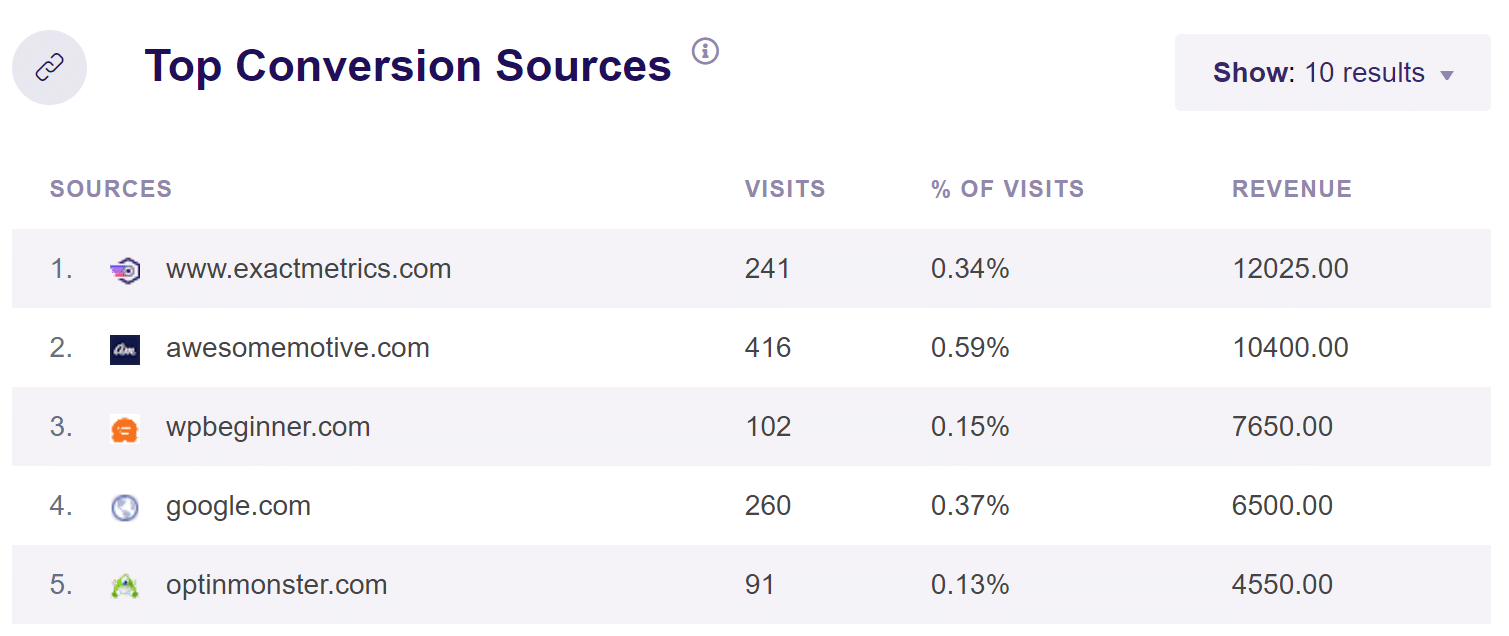 To get started, check out our guide on how to set up Google Analytics eCommerce tracking.
Dimensions Report
Next, you can track additional information about your website using custom dimensions in Google Analytics.
For instance, you might want to know how many people are logged in and how many aren't. Or if you have multiple authors, then you might want to find out which author attracts a lot of visitors. Using custom dimensions, you can easily track these metrics.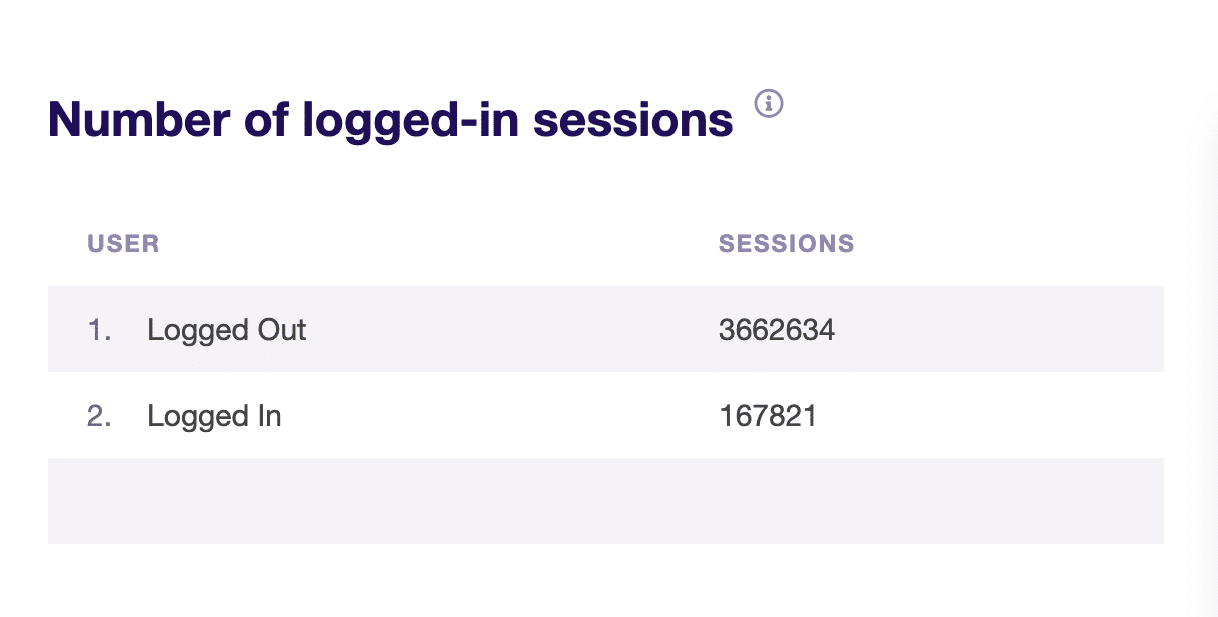 Forms Report
ExactMetrics allows you to track different forms on your website automatically through its Forms addon. You do have to perform any manual set up or edit code to track forms.
Using the report, you can see which forms are popular, how many visitors viewed and interacted with your form, and how many people submitted the form.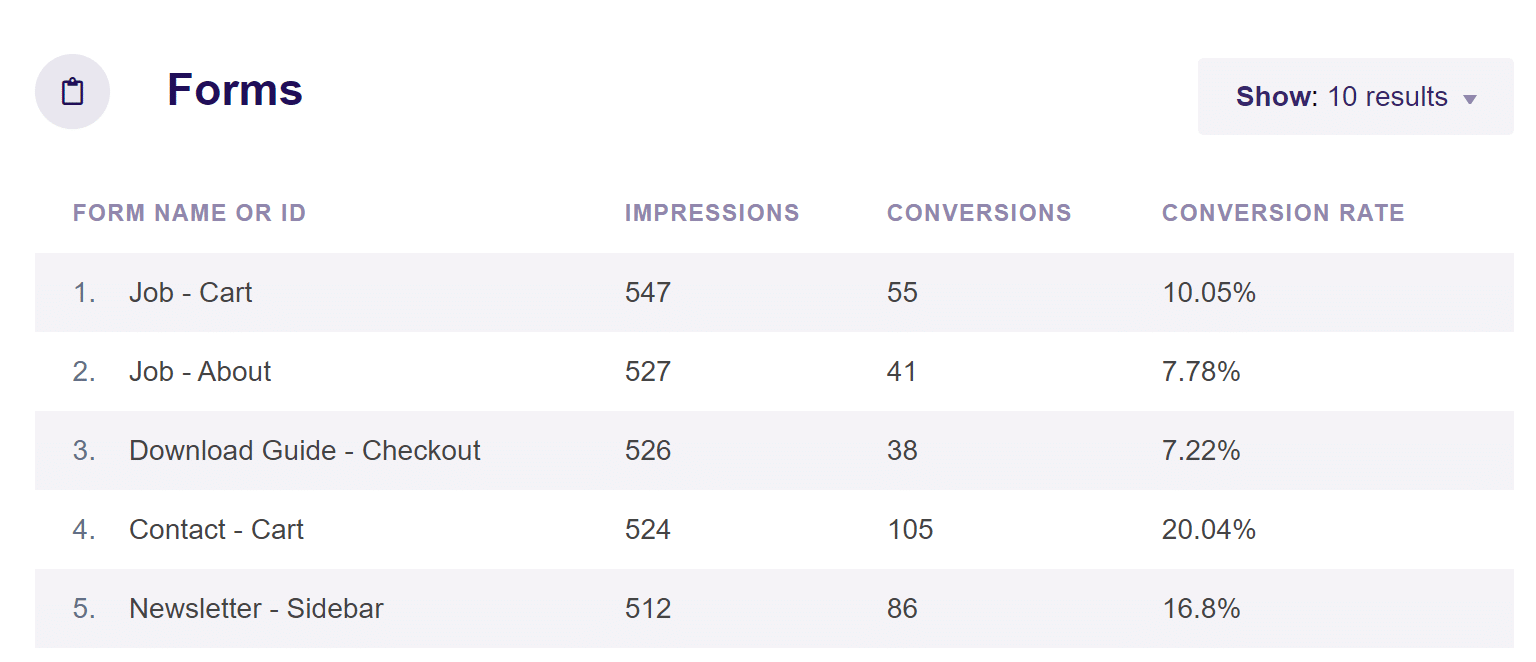 For more details, check out our guide on how to set up WPForms conversion tracking.
Real-Time Report
The last report you can view is the real-time report. It tells you how many people are active on your website right now.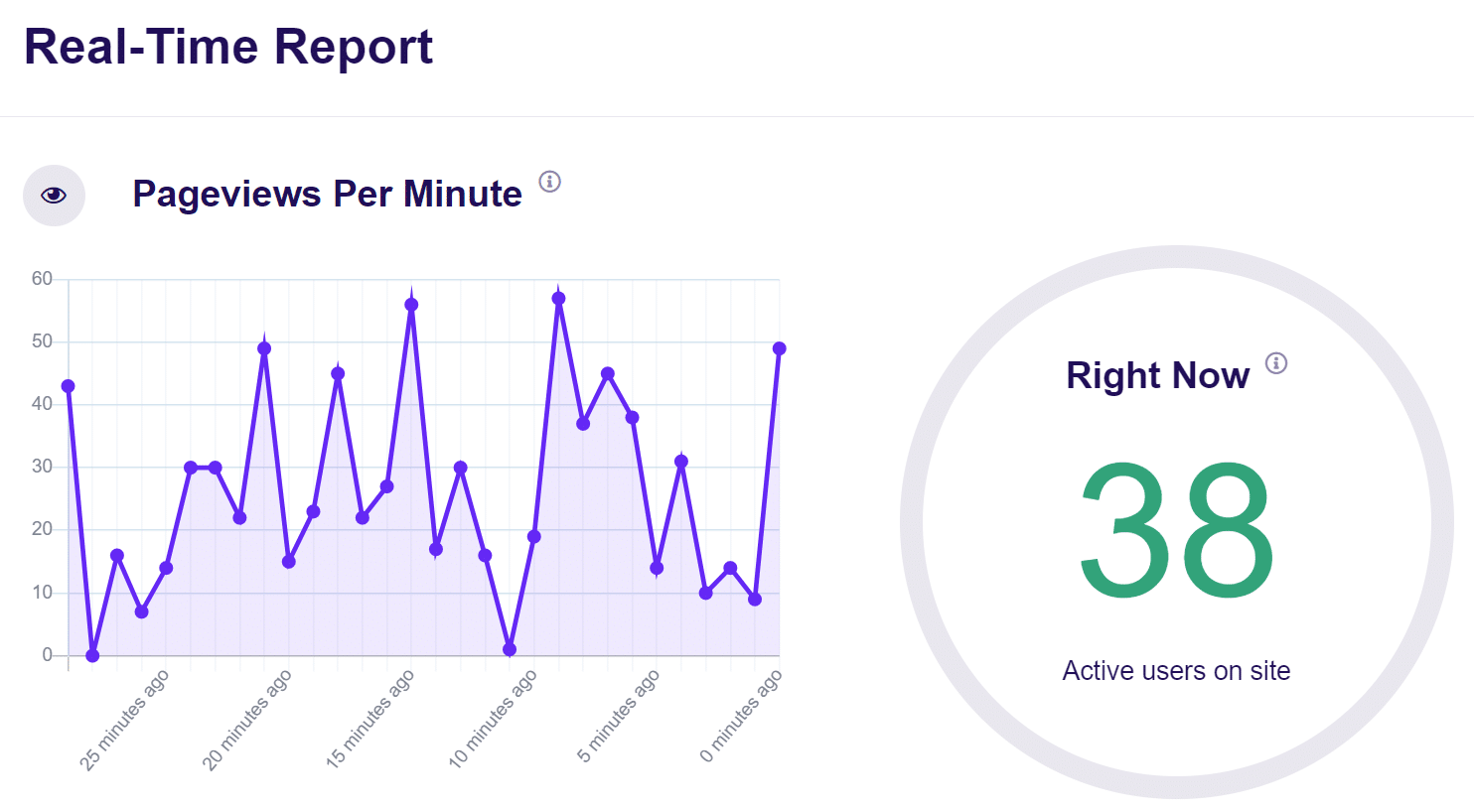 Not only that, but you can view other metrics in the Real-Time report in ExactMetrics. You can see real-time web traffic on your top pages, which top referral traffic sources are attracting visitors, and which region your traffic is coming from.
And that's it!
We hope you liked our article on how to check the number of visitors on your WordPress website. You can also go through our post on how to set up Google Analytics eCommerce tracking.
Don't forget to follow us on Twitter and Facebook to get to learn more about Google Analytics.