Are you wondering how to check the number of visitors on your WordPress website? Having insights about your site visitors is an important part of growing your business.
Tracking your WordPress site traffic can help you create more engaging content for your audience, offer products that are more likely to sell, target new keywords to boost your organic traffic, and lots more.
How to Check the Number of Visitors on Your Website
In this article, we'll show you how to check the number of visitors on your website in WordPress. Plus, we'll show you how to track your site visitors and see more key traffic data. Here's what we'll cover:
Does WordPress Track Visitors?
WordPress doesn't track visitors, total traffic, or any site stats for you. You'll need to use Google Analytics to check your site visits on WordPress and get other important metrics.
Unfortunately, setting up Analytics the manual way isn't the most beginner-friendly task as it involves editing code and complicated configurations. And, you wouldn't be able to track visitors in WordPress. Instead, you'd have to navigate Google Analytics to find the data you need, which can be pretty time-consuming.
Thankfully, there's a better way!
We'll show you the simple way of setting up and using Google Analytics to track your website visitors and traffic metrics in WordPress without touching any code.
Can Website Owners See Who Visits?
Website owners cannot see exactly who visits their website, as in you can't identify individuals. But, you can absolutely set up WordPress visitor tracking to collect anonymous data.
This lets you see tons of valuable information about your website visitors such as demographic information, interests, locations (cities, regions, countries, and languages), behavior on your site, device and browser types used, how visitors found your site (organic search, social media, etc.), and more.
Benefits of WordPress Visitor Tracking
Still not convinced? Take a look at some of the benefits of gathering site stats about your visitors:
Know Your Visitors Better – You can find out which country or region your visitors are from, so you can create content that solves a problem that's specific to their country and create personalized marketing messages.
Identify Popular Content – Website visitor tracking can help you find out which content is performing well and getting a lot of traffic, so you can come up with similar topics.
Find Top Traffic Sources – Discover which channels drive the most traffic and focus on them instead of promoting your site on sources that don't bring visitors.
Set Business Goals Based on Numbers – Traffic stats can help you set data-backed website goals, so you can set tangible benchmarks, track your progress, and increase your revenue faster.
As you can see, checking the number of visitors on your site and tracking visitors is super important. Luckily, it's also very doable, even for non-technical users. That's because we'll be using ExactMetrics – the best WordPress visitor tracking plugin.
Let's see how to do it!
How to Get Traffic Analytics on WordPress
With just a few clicks, you'll be able to add Google Analytics to your WordPress site without editing any code, check website traffic in WordPress, see visitor insights from your WP dashboard, and lots more. Just follow this simple tutorial.
ExactMetrics is the best premium WordPress Analytics plugin, allowing you to easily set up Google Analytics without editing any code or needing a complicated tool like Google Tag Manager. You get advanced tracking right out of the box with an extremely user-friendly interface and Google Analytics reports right inside your WordPress dashboard.
Plus, you gain access to tons of additional Google Analytics features and advanced tracking capabilities with just a few simple clicks. Here are some of ExactMetrics' most popular features:
Install ExactMetrics
To get started on checking website traffic in WordPress, head to the pricing page and grab the license level that works for you (or try out the free version).
First, download the plugin from your account area after purchasing.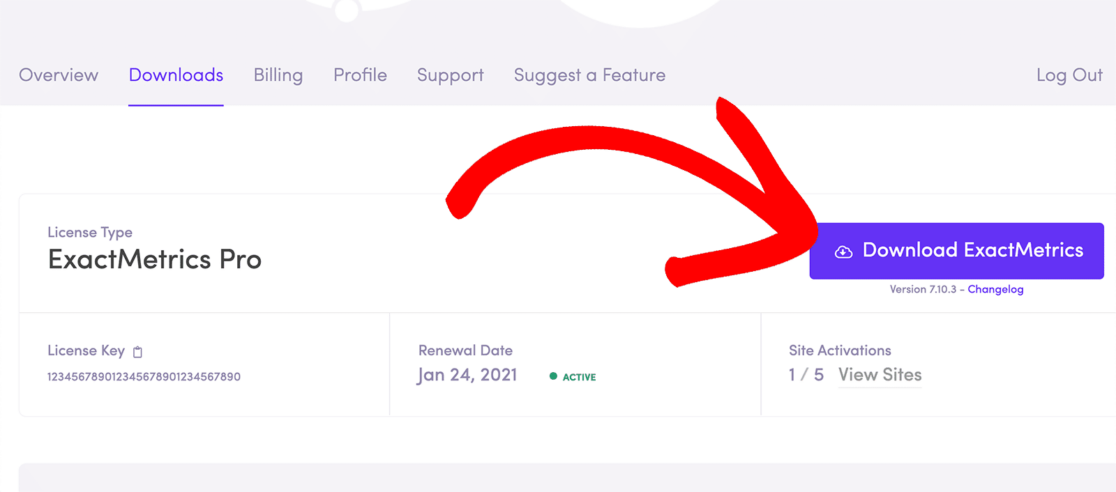 Next, you'll need to install the plugin on your site. Head to Plugins » Add New in your WordPress dashboard and click Upload Plugin at the top.
Go ahead and upload the zip file you downloaded, and press Install Now.

Once the plugin finishes installing press Activate Plugin.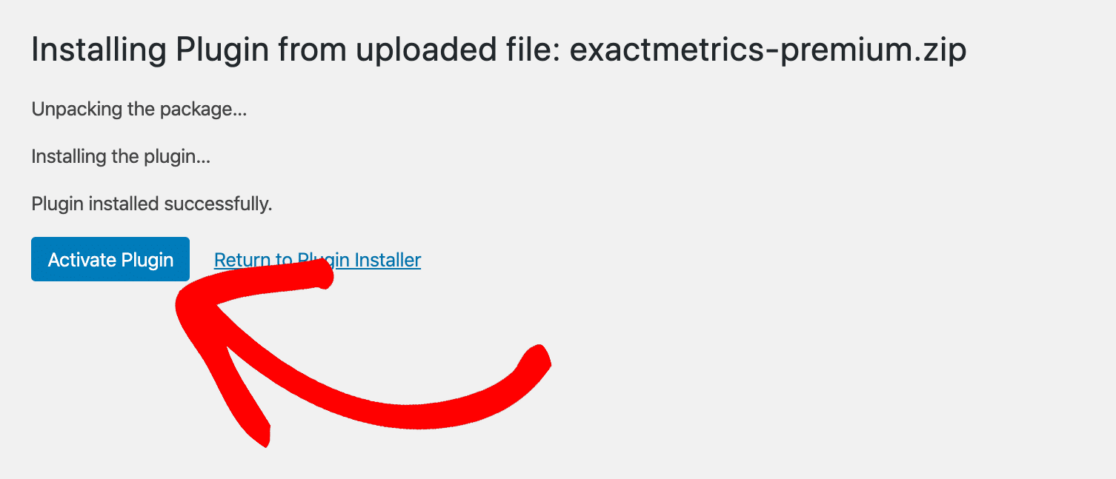 Note: If you're using ExactMetrics Lite, just search for it in the WordPress plugin directory and install and activate it the way you typically would. If you're not familiar with installing plugins, you can check out this tutorial for help.
Connect WordPress to Google Analytics
Next, you need to connect your site to Google Analytics to get traffic analytics on WordPress. Thankfully, it's really easy with ExactMetrics. just click the big green button that says Launch the wizard!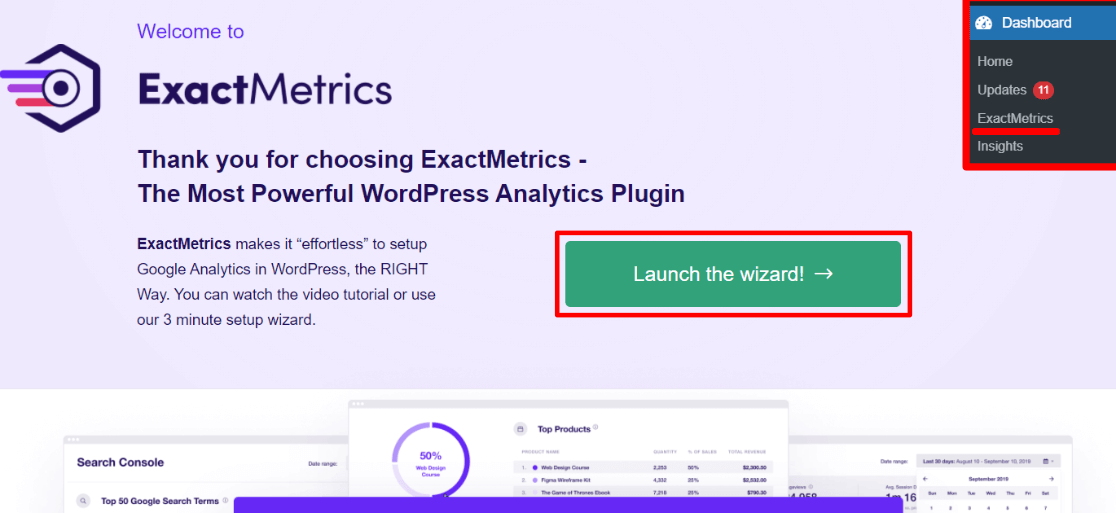 The setup wizard will walk you through adding your license key and connecting ExactMetrics to Google Analytics.
Make sure to press Allow (with every box checked) when you get to this step. That way, the plugin can configure your WordPress visitor tracking correctly in Google Analytics.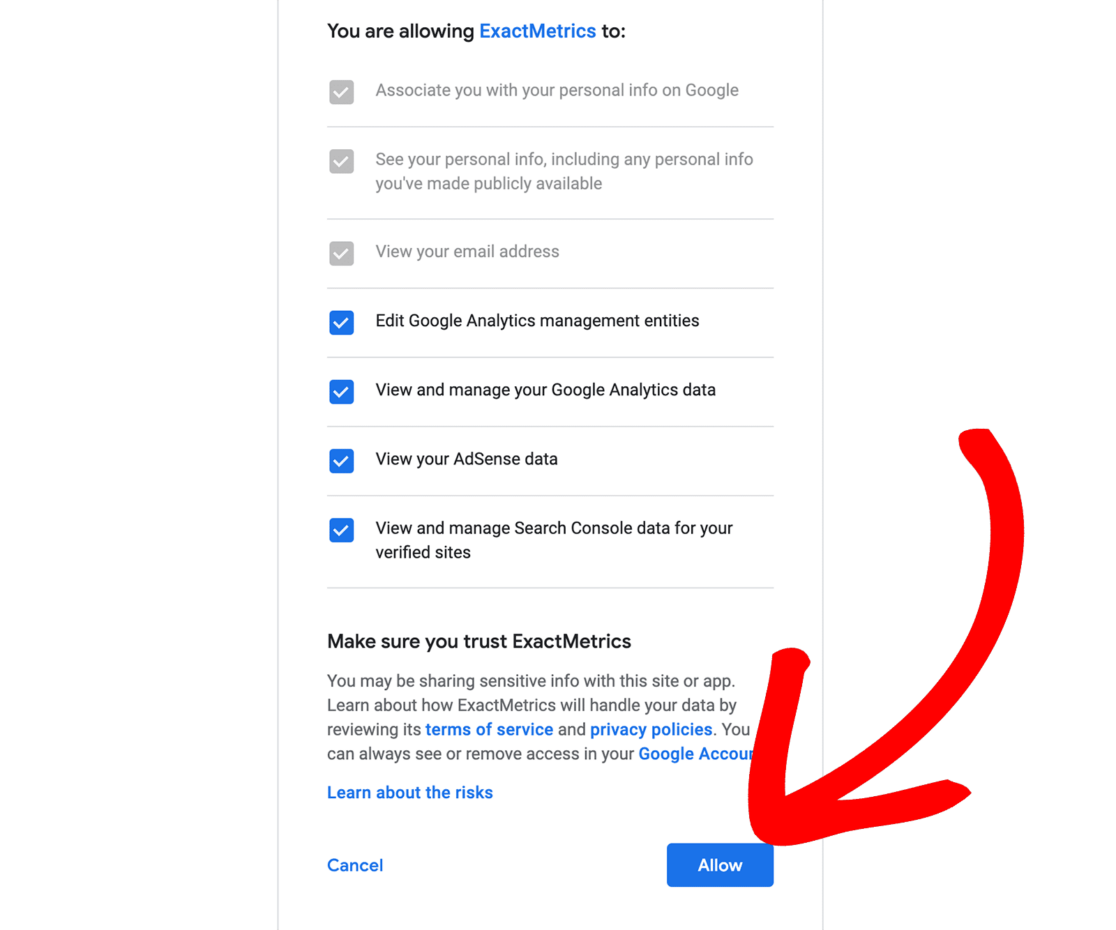 If you need more help with installing the plugin or connecting it to Google Analytics, you can head to our step-by-step tutorial on how to add Google Analytics to WordPress.
Once you finish with the setup wizard, you're ready to learn how to check site visits on your WordPress website and track visitors.
How to Check Website Traffic in WordPress
The best thing about using ExactMetrics is that you get to view all of your most important metrics right inside your WordPress dashboard, neatly organized in easy-to-understand reports.
We'll show you how to check your overall website traffic in WordPress along with 10 other key reports:
How to Check Overall Site Visits on WordPress
First, let's look at the main report you can use to check the traffic on your website in WordPress. Head to your reports by clicking ExactMetrics » Reports from your WordPress admin menu.
The first page you'll see is the Overview report.
Right from the start, you can see the total visits to your website (Sessions), total Pageviews, Average Session Duration, and how many people visited your site during the selected date range (Total Users).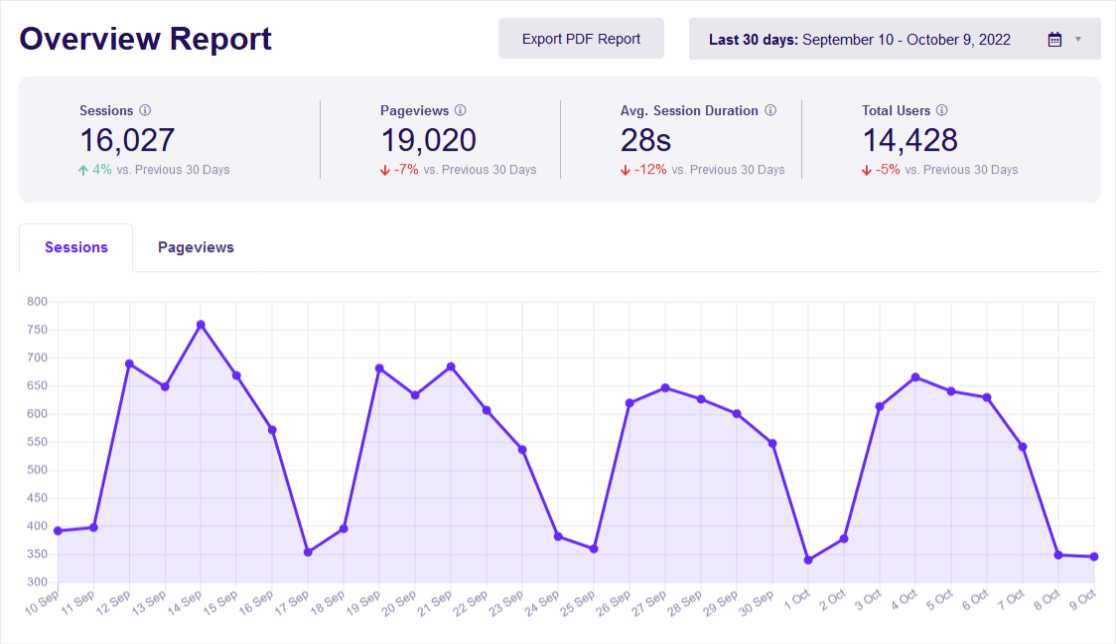 How to See the Number of New vs. Returning Visitors & Device Types
Want to know more about who visited your website? Scroll down to see the New vs. Returning Visitors report and your Device Breakdown.
The number of new visitors compared to returning visitors helps you see how many people are coming back to your site. By increasing your returning visitor rate, you have a higher chance of users buying your products, signing up for your newsletter, or completing another conversion event.

How to Check the Number of Website Visitors by Country
Just below this, there are other important reports you can view.
Your Top 10 Countries shows which countries your visitors are from, so you can better understand them and create personalized marketing messages or region-specific content to increase traffic.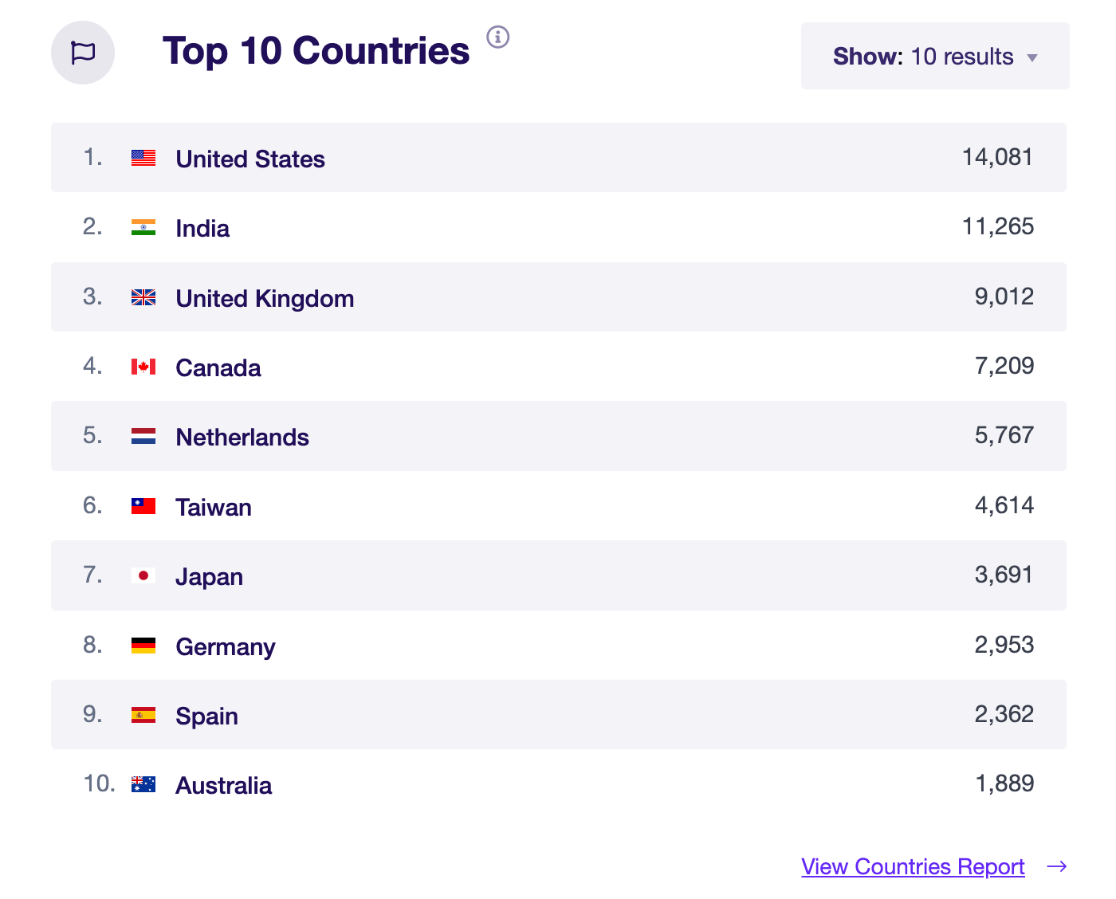 Next to the top countries is your Top 10 Referrals report. These are other websites that are sending visitors to your site.
Since they're an important source of traffic, you want to get more visitors from these websites. You can do that by partnering with these referral sources or trying to find similar websites that you can target when promoting your content. Check out our guide to referral traffic to learn more.
How to See Page Views on WordPress for Top Posts/Pages
Want to check page views for your top-performing content? The last report you'll find on the Overview page will be your Top Posts/Pages. This lets you see the pages or posts that get the most traffic on your site along with the number of views for each.
With this report, you can see which type of content is performing well and attracting visitors to your site.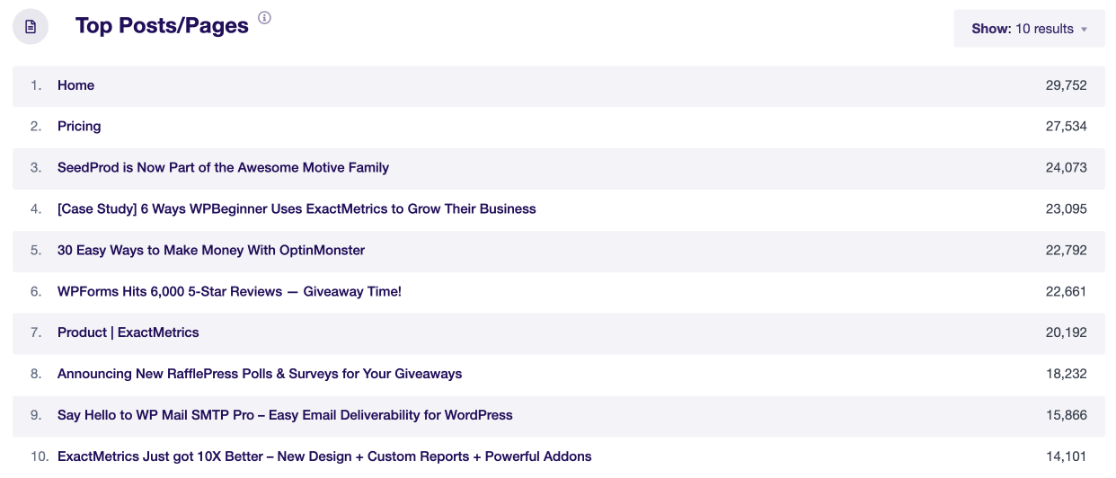 Check out our detailed tutorial to find more web traffic stats for specific pages in WordPress.
How to View the Number of Visitors on Your Website in Real-Time
Now that you've learned how to check the number of visitors on your website using the primary Overview report, we'll show you how to dig deeper and find more WordPress visitor tracking data.
Note: To access the reports we'll be diving into next, you'll need an ExactMetrics Plus license or higher.
Are you curious how to know the number of visitors on your website in real-time?
You can easily find out with the Real-Time report in WordPress. This report tells you how many Active Users are on your website right now and the number of Pageviews Per Minute.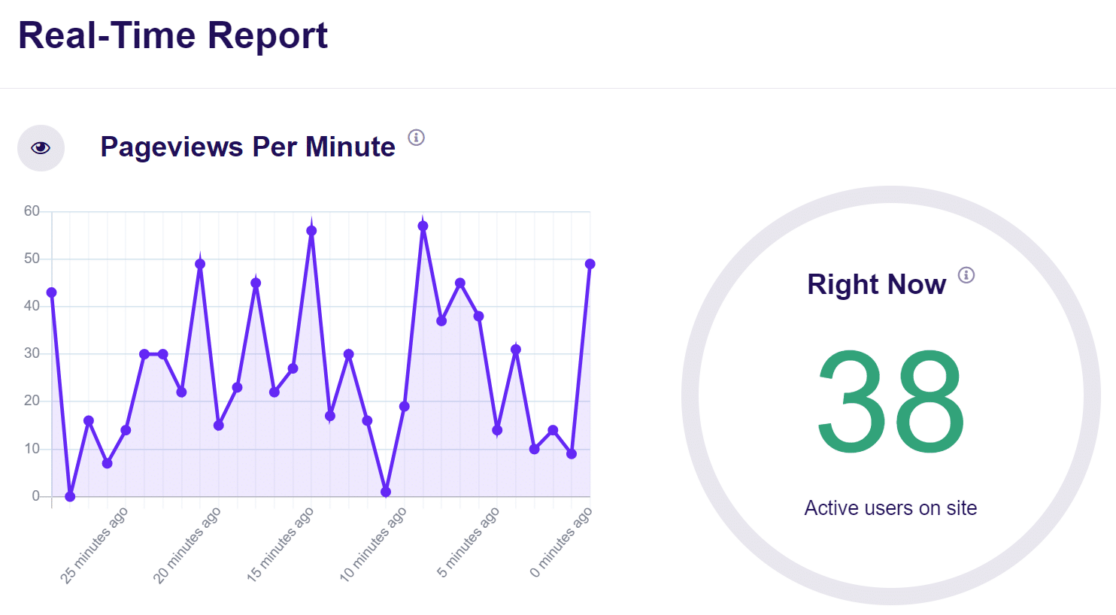 You can also scroll further to view other metrics such as real-time web traffic on your Top Pages and which Countries and Cities your current traffic is coming from.
To learn more about tracking visitors in real-time, check out our complete guide to Google Analytics realtime reports.
How to Check Site Visits on WordPress by Traffic Channels
To get more insight into your WordPress site traffic, click the Traffic tab in the top menu. You'll see 5 reports listed that each let you track additional website traffic metrics in WordPress.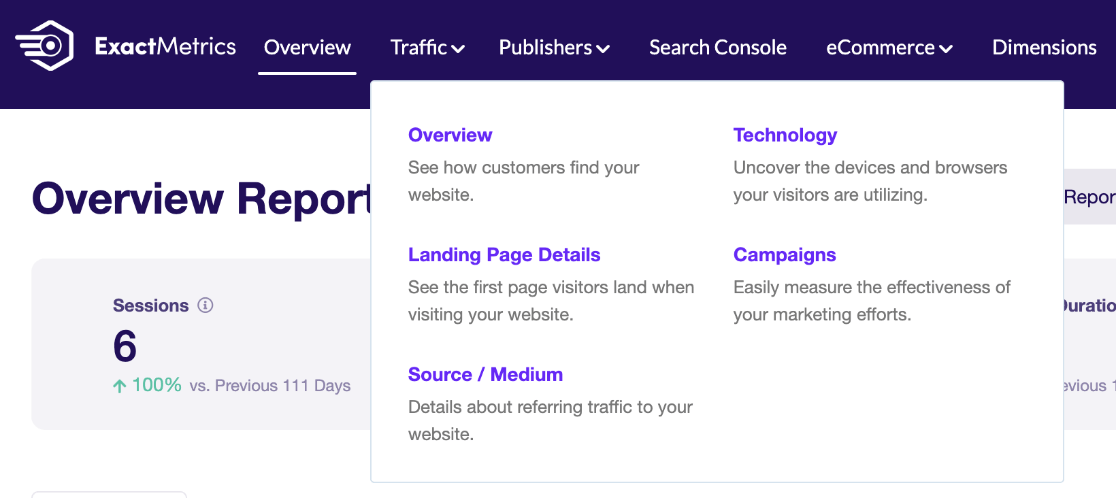 Let's click Traffic » Overview to start.
Here, you'll find your traffic graph again. But below this, you can see Traffic Details, which shows the amount of traffic from different channels. Quickly see which traffic channel is driving site visits, conversions, and more.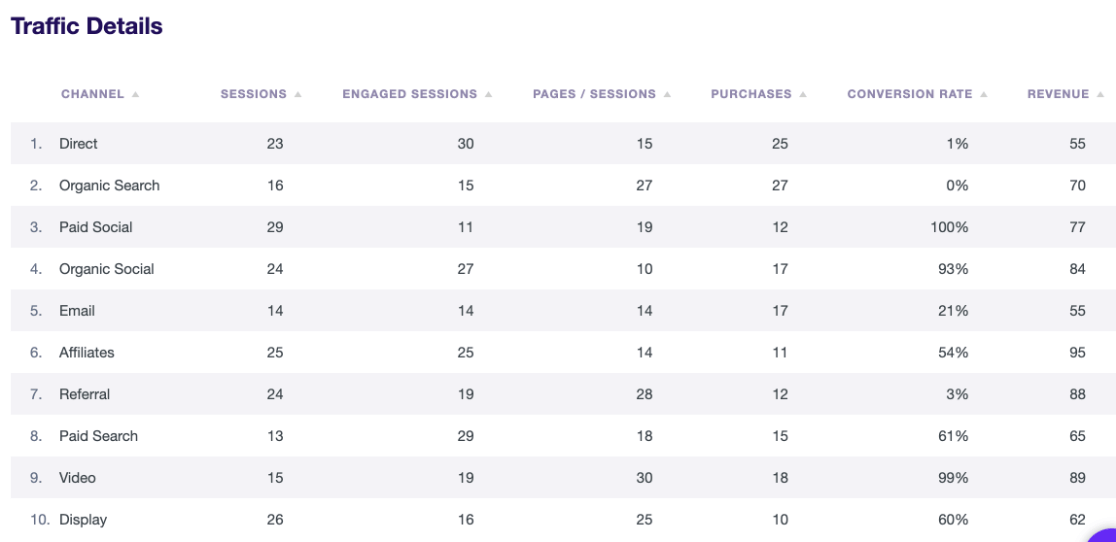 We won't go into all of the other reports under Traffic, but you'll definitely want to check them out. Here's what else you can uncover in those reports:
Landing Page Details – See which landing pages have the highest engagement, pages viewed per session, purchases, and more.
Source / Medium – Find out which sources (ads, email marketing, Facebook content, etc.) are bringing visitors to your site, contributing to revenue, and more
Technology – See more details about the devices and browsers your website visitors use. For example, how many visitors use Chrome when accessing your site? Do most of your visitors use Android or Apple devices?
Campaigns – If you use UTM parameters to track website traffic from your various marketing efforts, you can track how your campaigns are performing right inside WordPress.
How to Check Website Traffic by Landing Pages
Next, In the Publishers tab, click Overview.
Here, the first thing you'll see is your Top Landing Pages. These are pages that are driving a lot of web traffic to your WordPress site. For each landing page, you can see the total number of Visits, Average Duration, and Bounce Rate.

Remember, you can also find a detailed landing page report with more metrics under the Traffic tab. Head to our tutorial on tracking Google Analytics landing page conversions to learn more.
Below the Top Landing Pages, you can see more reports that show what your site visitors click on:
ExactMetrics can also help you track custom links like call-to-action buttons, form submissions, and more.
How to Track Visitors' Age, Gender, and Interests
Curious about who your audience is? Although you can't track the individuals, you can track anonymous information to get a better idea of who they are and what they're interested in.
Scroll to the bottom of the Publisher Overview report to see demographic information about your visitors and average scroll depth. You can see the number of site visitors who are in each Age range, a Gender breakdown, and the percentage of visitors in certain Interest categories.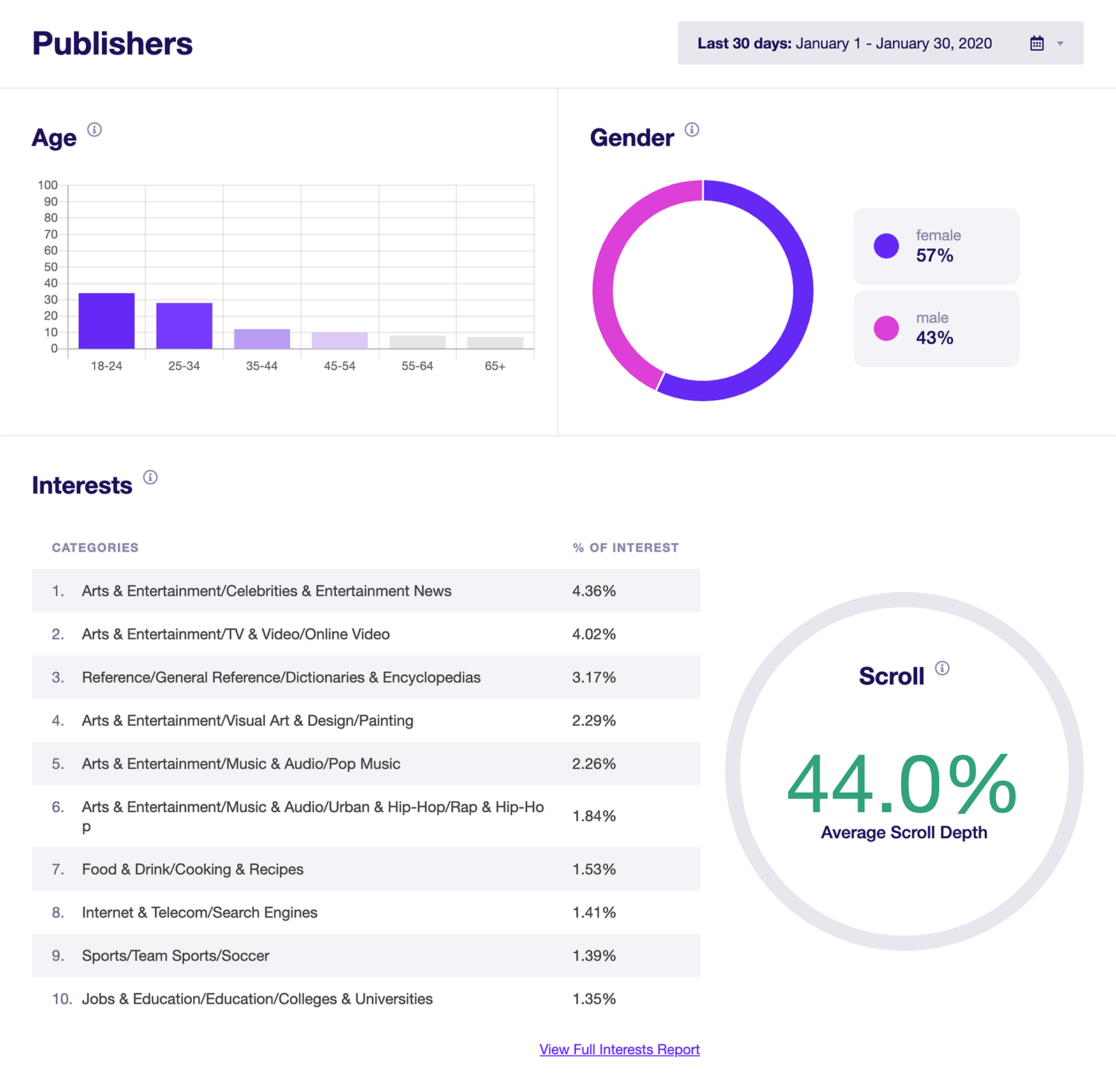 Demographic data is a summary overview since collecting this data complies with visitors' selected preferences in Google and privacy laws. But, it's still really helpful for getting a better understanding of your audience.
Follow our tutorial on how to enable Google Analytics demographics and interest reports to learn more.
How to See the Number of Visits to Your Website by Search Query
Now, are you wondering which keywords visitors use to find your website? If so, you can use the Search Console report to find out. ExactMetrics helps you connect Google Search Console to Google Analytics, and you can view the report inside your WordPress dashboard.
The report shows the Top 50 Google Search Terms your site is ranking for. And, you can see the number of Clicks, Impressions, CTR (click-through rate), and the Average Position for each keyword.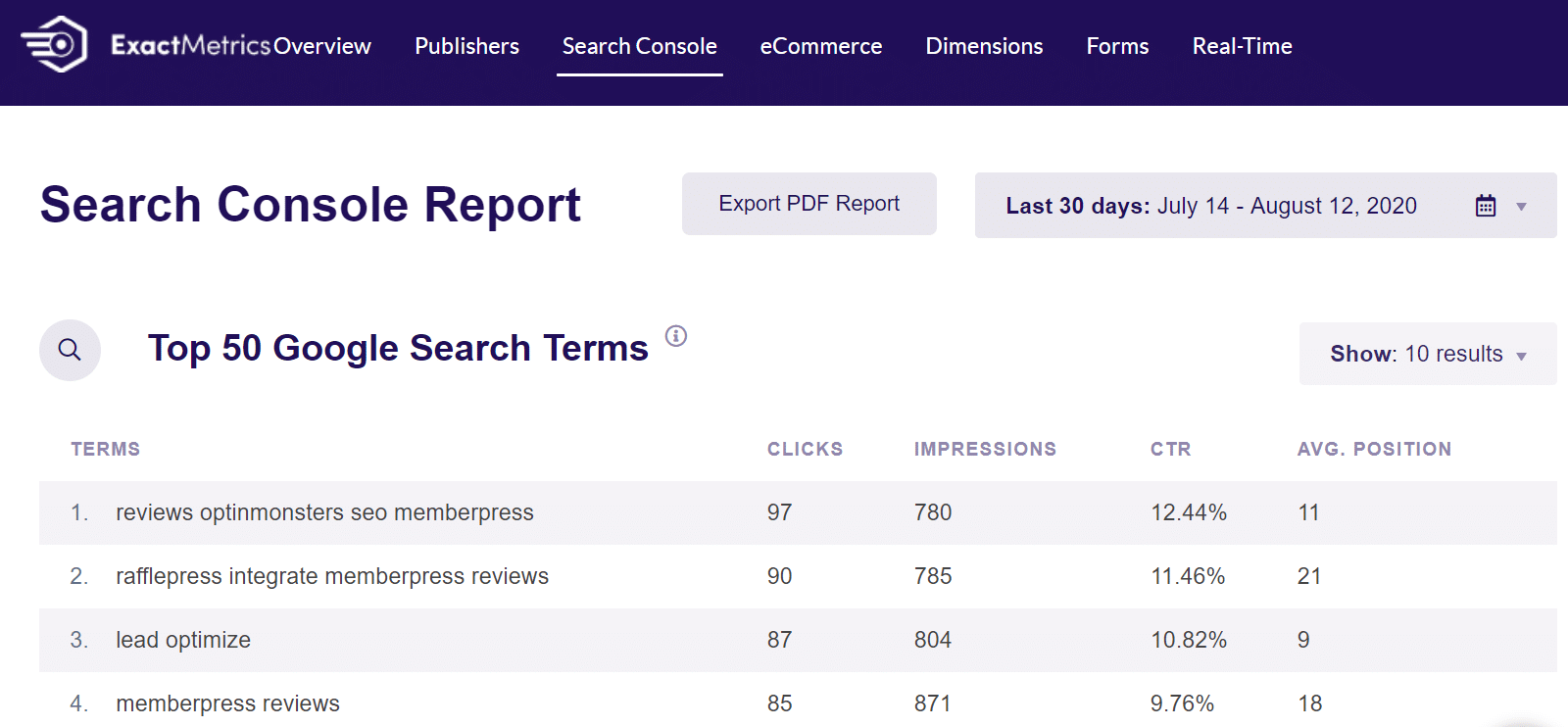 Plus, if you're using an SEO plugin for WordPress like All in One SEO or Yoast, ExactMetrics can track your focus keywords, so you can see if your content optimization efforts are paying off and driving organic traffic.
Check out our tutorial on tracking focus keywords in WordPress to get started.
How to Track eCommerce Customers and Purchases
If you have an eCommerce store running on WordPress, you can track its performance using ExactMetrics Pro or above. The plugin can automatically detect your online store and set up tracking in Google Analytics.
Then, you can view the reports in your dashboard. Just go to eCommerce » Overview from your Reports. It gives you an overview of your store's performance including the overall conversion rate, total transactions, revenue, and average order value.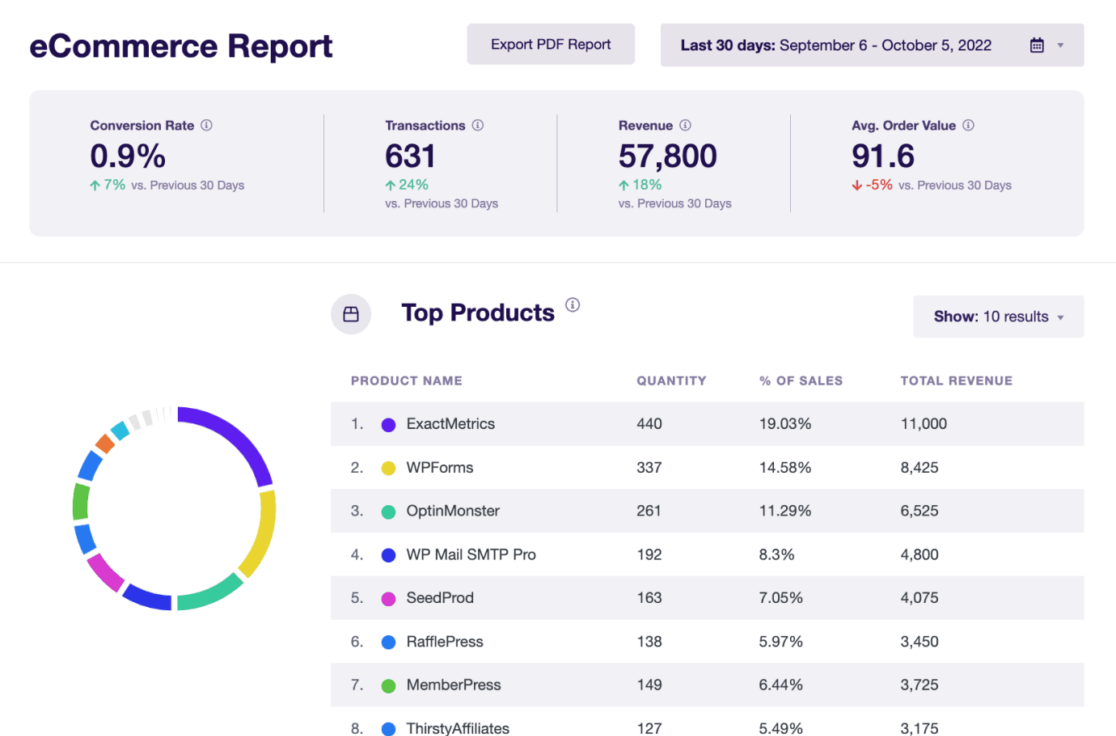 You'll also see your Top Products report, so you can easily see which products are the most popular with customers and bringing in the most revenue.
Below this, you'll find other important eCommerce metrics such as how many times customers added items to their cart or removed them, the percentage of new customers, and your abandoned checkout rate.

Keep scrolling on this page to see your Top Conversion Sources (websites that send high-converting traffic to your store). ExactMetrics also includes other important eCommerce features such as coupon code tracking, easy conversion tracking for PPC ad campaigns, and more.
To get started with eCommerce tracking, head to our guide on how to set up Google Analytics eCommerce tracking the simple way.
How to See More Website Traffic Stats with Custom Dimensions
Lastly, you can track additional information about your website using custom dimensions. Once set up, just click the Dimensions tab to see more reports.
For instance, you might want to know how many people are logged in to your site and how many aren't. If you have multiple authors on your site, which author attracts a lot of visitors? Which post type is getting the most views? Which categories and tags are increasing your website traffic?
With the Dimensions report, you can easily track all those metrics and more.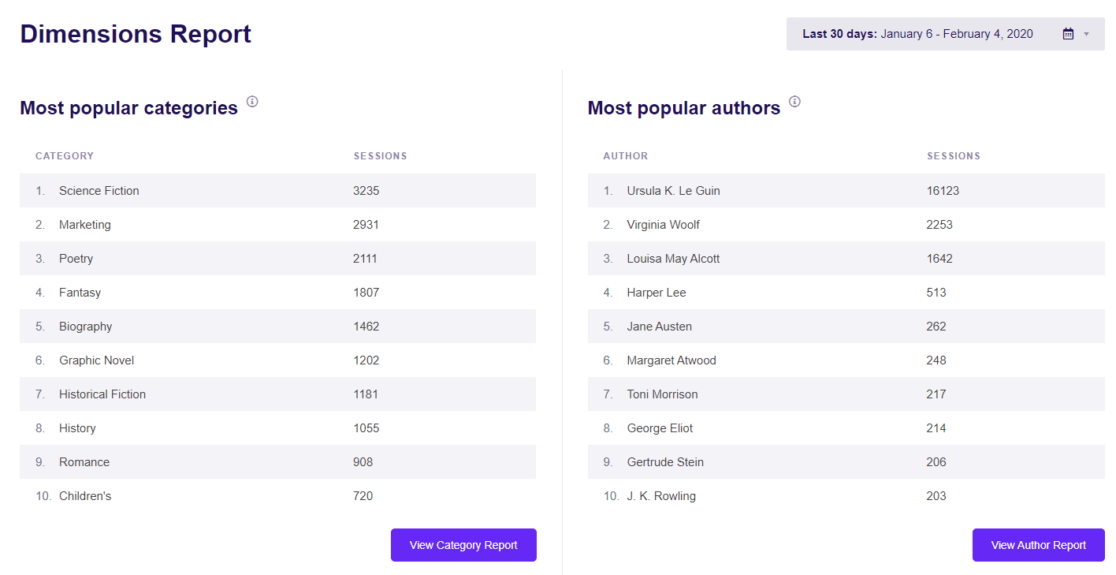 Want to learn more about tracking website visitors and traffic with custom dimensions? Head to our beginner's guide to Google Analytics custom dimensions.
As you can see, ExactMetrics is packed with advanced features for tracking website visitors in WordPress and measuring site performance. Plus, there are even more features we didn't cover such as video play tracking, site speed reports, forms tracking, and more.
We hope you liked our article on how to check the number of visitors on your WordPress website. We think you'll also enjoy our post on How to Use Google Analytics for SEO.
Not using ExactMetrics yet? What are you waiting for?
Don't forget to follow us on Twitter and Facebook to see all the latest reviews, tips, and Google Analytics tutorials.