Are you struggling with designing a signup form that converts? If yes, then don't worry, you're not alone.
It's important to create a form that's easy to use and helps capture leads. But it's tricky to figure what's working if you don't any data to work with. This is where you can split test your signup forms.
Through split testing, you can figure out what's working and what's not. So, you can then build a signup form that brings in a lot of conversions.
In this article, we'll show you how to split test your signup form in WordPress. Let's start…
What Tools Do You Need for Split Testing?
To conduct a successful experiment, you need a tool for split testing. There are hundreds of software tools to choose from, but most of them are complex or require a huge investment.
But what if we offer you a free solution, which is easy to use?
Google Optimize is a free service by Google that lets you conduct A/B tests on your WordPress website. Using the tool, you can get insights about each visitor's taste and interest. Then use the data to optimize your signup form to improve conversions.
The best part about Google Optimize is that you can easily integrate it with your WordPress site. And it uses Google Analytics to measure your split tests and show results.
How to Set Up Google Optimize in WordPress
Before you can conduct an experiment, the first step is to configure Google Optimize in WordPress. But this requires you to enter a code on your website.
Unless you know how to code, this can be tricky for new users.
A simple way to add Google Optimize on your WordPress website is through ExactMetrics. It's the best premium WordPress Analytics plugin.
You don't require any coding and ExactMetrics easily adds Google Optimize to your website and connects it with your Google Analytics account.
All you need is its Google Optimize addon and you're ready to conduct experiments.
You can follow our detailed guide on how to set up Google Optimize in WordPress to get started.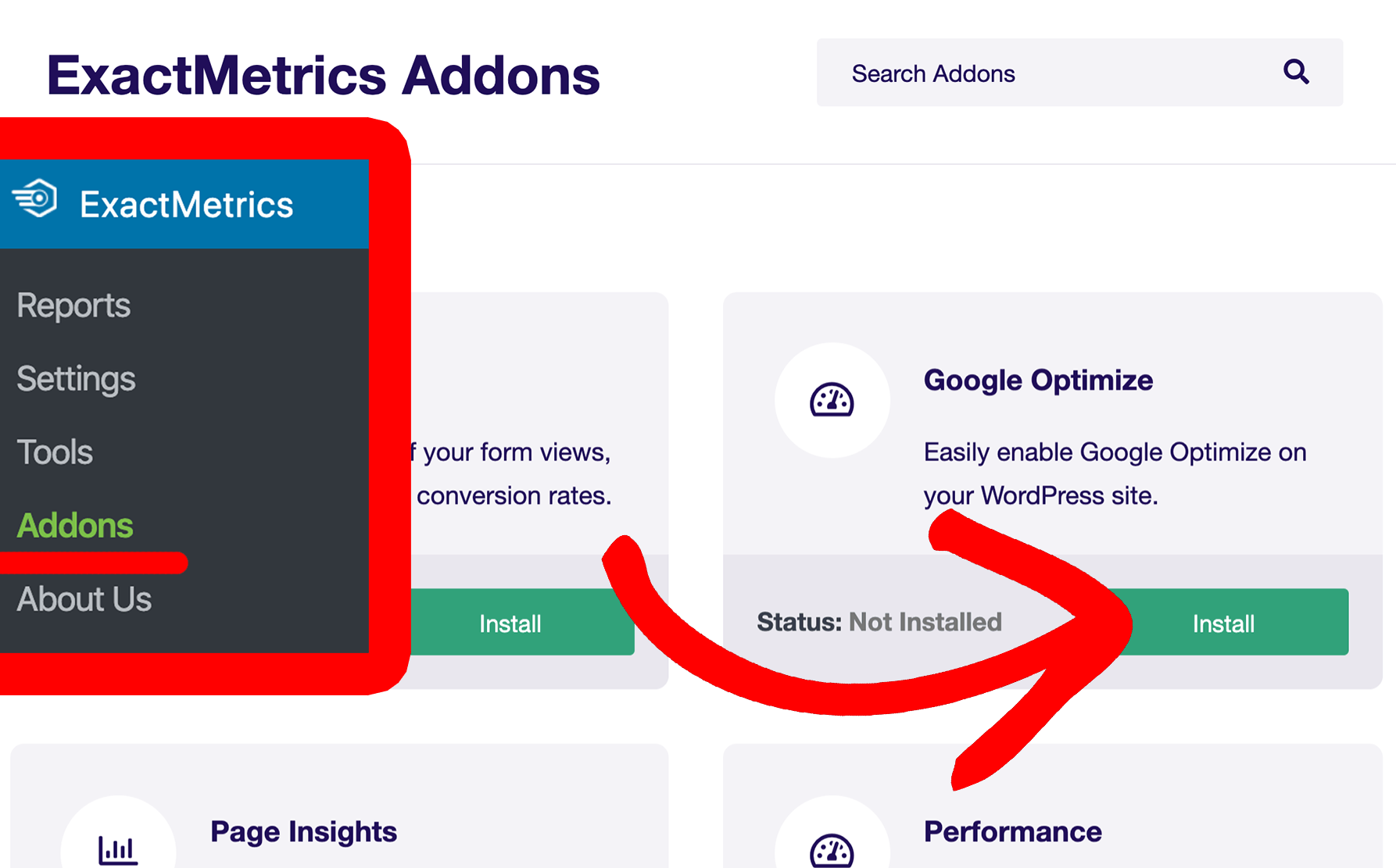 Now, are you ready to create a split test for your signup form?
How to Split Test Signup Forms in Google Optimize?
Once Google Optimize is added to your website, just follow these steps to set up split testing in no time.
Step 1: Create an Experiment
To create your experiment for a signup form, the first step is to login to your Google Optimize account. Then click on Create experience to get started.

Next, enter a name for your split test, so you can easily find it among other experiments. Then add the URL of the page that contains your signup form.
You'll also have to tell Google Optimize the type of experience you want it to create. There will be 3 options, but for split testing, select the A/B test.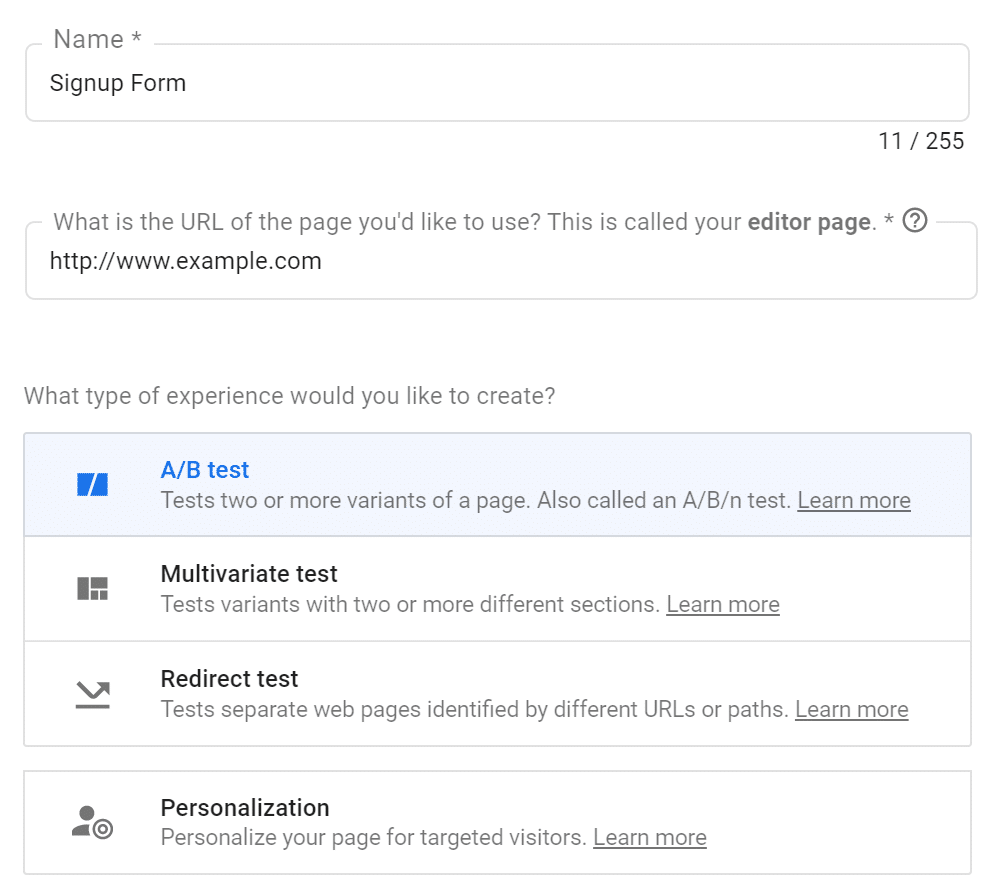 After entering the details and selecting the test type, click Create.
Step 2: Add a Test Variant
You'll now see a screen where you can set up your split test by adding a test variant, define targeting rules, setting up objectives, and more.
Let's start by adding a test variant. A variant is the different version of your signup form you want to test against your original form to find out which one performs the best.
Start by clicking on Add variant (located under Targeting and variants).

Then give a name to your variant. This is helpful if you're planning on testing more than one version of your form, as you can easily differentiate between each signup form. Click Done once you've entered a name.

You should now see your variant appear under Variants. To make changes to your signup form, click Edit.
Note: You'll need Google Optimize Chrome extension to edit your page. It is a visual editor through which you can change elements of your signup form for the split test.

Now, to create a different version of your signup form, let's say you want to test a new call-to-action. In the original form, it says Submit. But you want to see if having a different text, like Signup Now, will increase or decrease the number of signups.
To make these changes, click edit and you'll be taken to your signup form page. Here, select the element you want to change (in this case the submit button) and click Edit element. You'll see different options, select Edit text.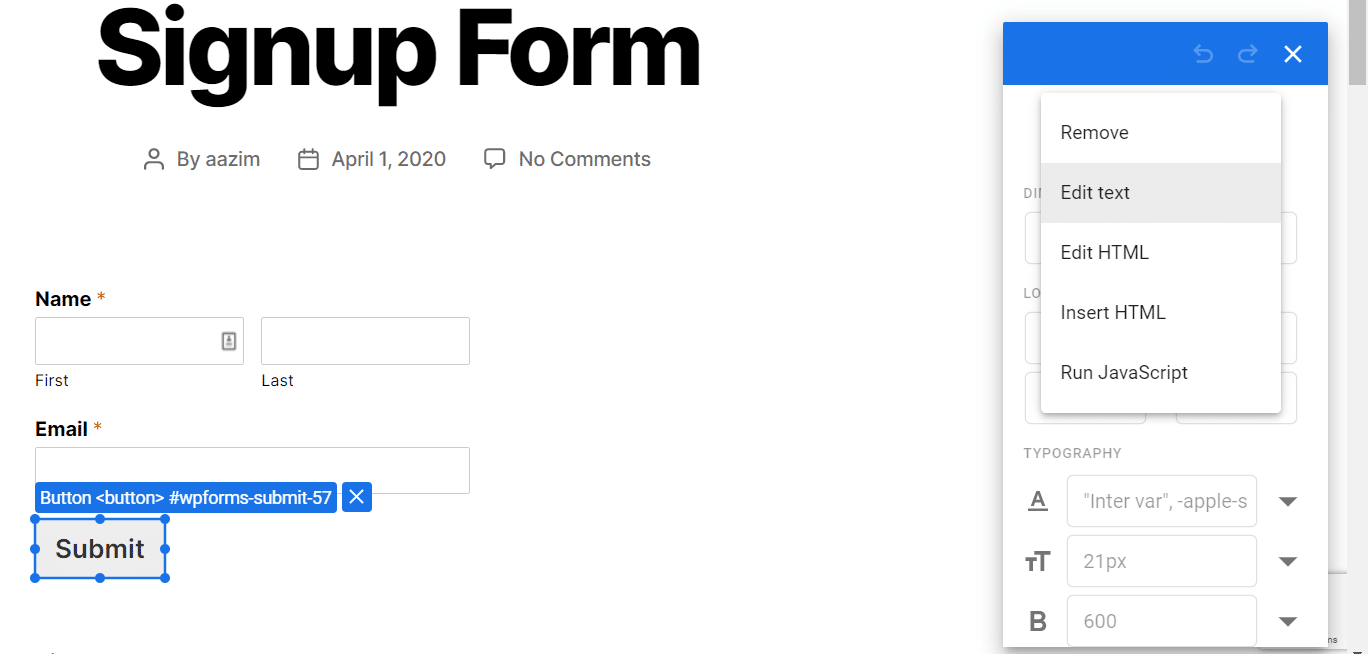 If you want, you can change more elements on your form to see which one works the best. Once you've made the changes, click Save and Done on the right top corner.
Step 3: Create Experiment Objectives
Next, you'll have to set the objectives for your split test. Objectives tell Google Optimize what to measure in the split test.
To enter the objectives, scroll down and click on Add experiment objective. You'll have two options to select from, choose from list or create custom.

The Choose from list option gives you pre-defined objectives that Google Optimize will use and these include bounce, pageviews, and session duration. It will show them as goals in Google Analytics for reporting.

You can also create new objectives for your experiment by selecting the Create Custom option. Here you'll have to define a goal so that Google Analytics can track it and show you the results of your experiment.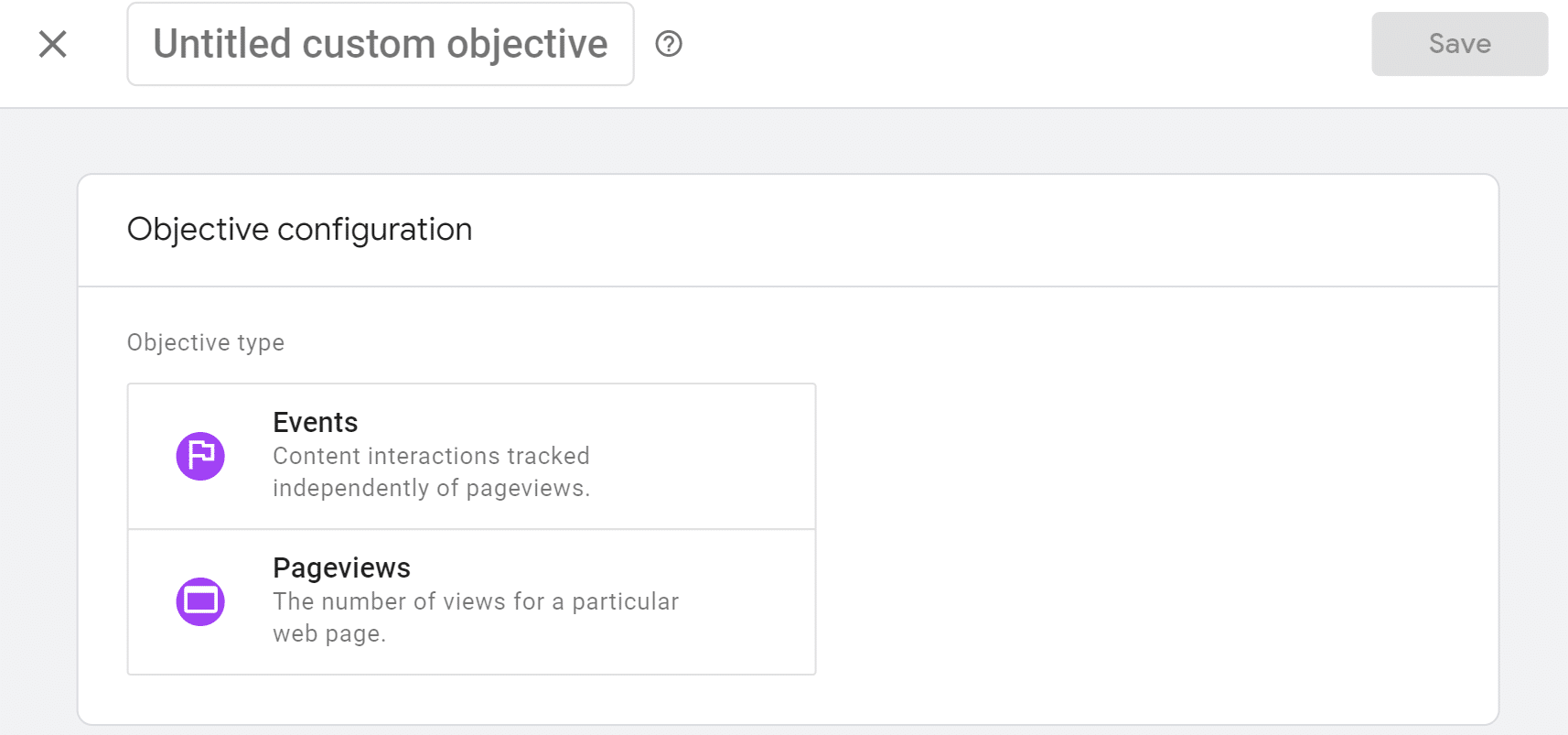 You can add multiple objectives for your split test, and you can use a combination of built-in objectives and custom objectives.
Step 4: Run the Experiment
Now that you've configured your experiment settings, it's time to run the test.
If you scroll back to the top of the page, you'll a Start button. Click on it to run the experiment.

If you want, you can also schedule your split test. Simply click on the clock icon next to the start button.
Now enter the start time and end time for your experiment and click Done.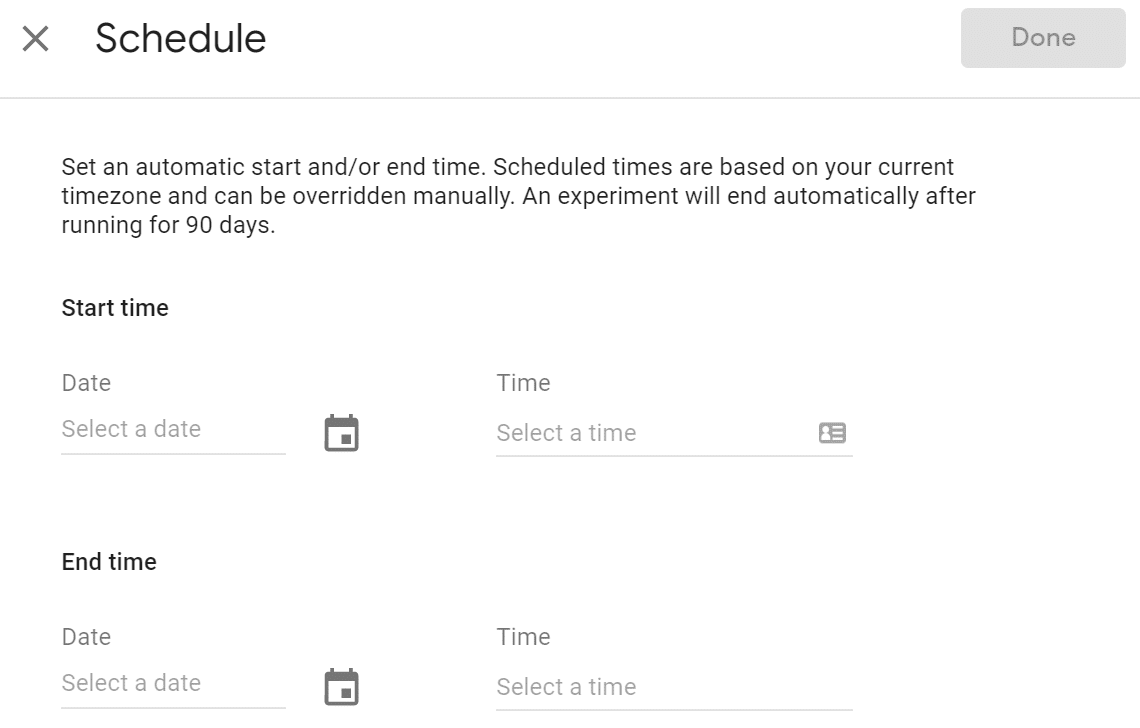 And that's it!
You've successfully created a split test in Google Optimize to test your signup form. Once your experiment starts, you'll be able to see data in Google Analytics.
Using the data, you can see which variant performed well and what further improvements you can make to your form to increase its conversions.
We hope you liked our article on how to split test your signup form in WordPress. You can also take a look at our guide on how to properly setup Google Analytics in WordPress.
And don't forget to follow us on Twitter and Facebook to get to know the latest guides on Google Analytics and WordPress.