Do you want to keep a close eye on your business, brand name, or competitors? Well, an easy way to do that is by learning how to create Google Alerts.
In this article, we'll explain what Google Alerts are, walk you through the setup process of creating Google Alerts, and share a few of the best ways to use them for your website. Ready to get started?
What Are Google Alerts and How Do They Work?
Google alerts are automatic notifications that Google sends to you based on specific conditions you've set up for monitoring content across the web. They're pretty straightforward in how they work. First, you define certain keywords, phrases, or websites that are important to your interests or business. Then, Google scans the internet to find new content about these topics. Whenever it identifies a match, you'll receive an alert notification.
Alerts could include a blog post, a news article, a forum thread, or any new content that revolves around your alert query and matches the optional conditions you've set. These automated insights allow you to keep a close watch on your own website and your competitors without spending a ton of time manually checking for changes. Pretty cool, right?
Is Google Alerts Free to Use?
Absolutely! Google Alerts is a completely free service offered by Google. You can stay informed about your target market, competitors, content topics, and more without spending a dime. All you'll need is a Gmail account to create and receive email alerts. You can create up to 1,000 Google alerts per Gmail account.
So, are you ready to start tracking key data and improving your website with Google Alerts?
How to Create Google Alerts
Simply follow the steps below to easily set up tracking across the web for your brand, other websites, keywords, or any other phrases of interest in only a couple of minutes.
Step 1: Go to the Google Alerts Site
Start by heading to the Google Alerts page, the hub where you'll create and manage your alerts. Now that you're on the site, sign in using your Google account.

Step 2: Enter the Details of your Alert
After signing in, type the specific phrase, word, or website that you wish to monitor using Google Alerts. Do note that Google Alerts supports Boolean operators, meaning that you can further specify what Google should search for.
For instance, using quotes around your search phrase like ["digital marketing strategy"] would only alert you of content containing that exact word order. Setting a Google Alert for [site:youtube.com digital marketing] would return YouTube content about digital marketing. Searching [digital marketing AND rss feed] would only alert you of content that includes both of those phrases. You can learn more about using Boolean search in this article.
After entering your alert query, you can customize the alert by selecting Show options.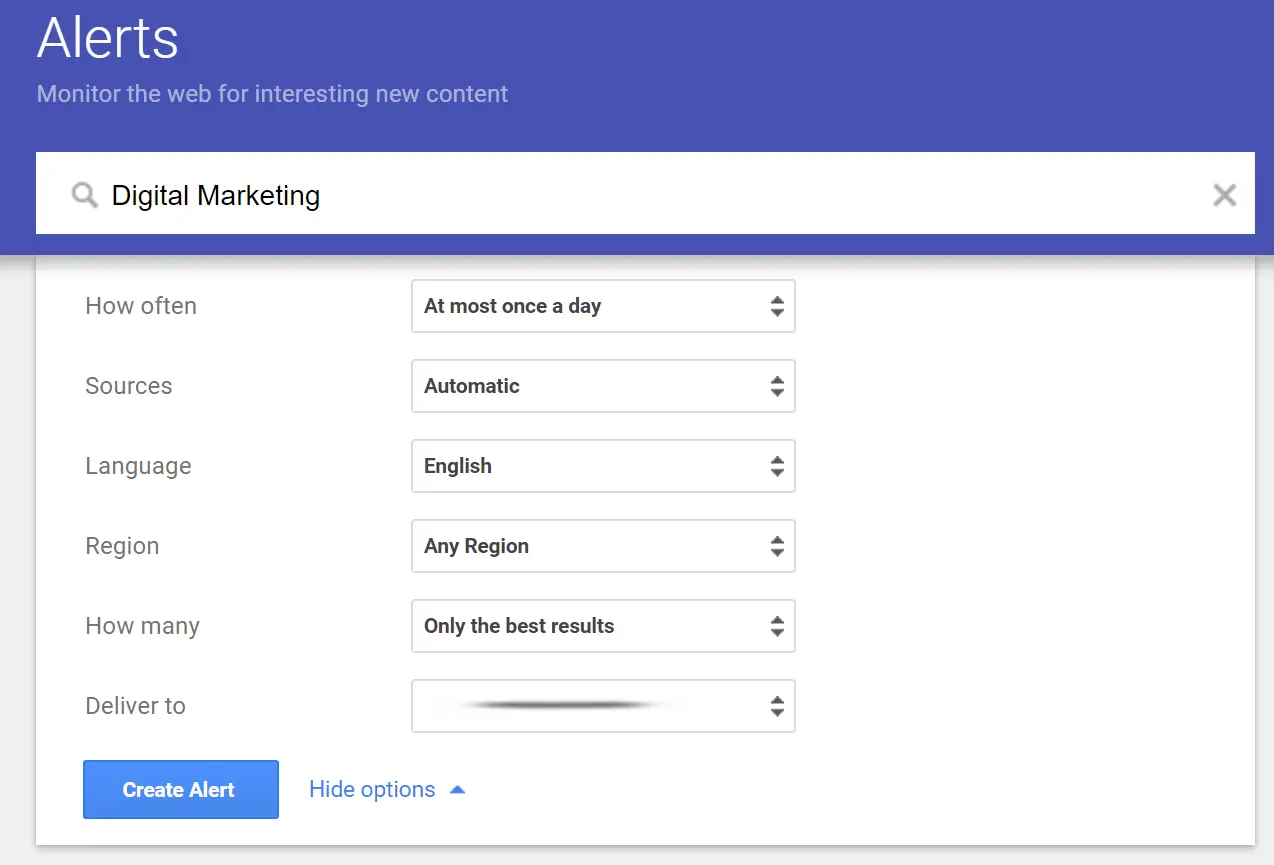 Go ahead and edit the settings to your preferences. Not sure what all these options mean? Here's a quick breakdown:
How often: How frequently would you like to be notified? You can choose daily notifications, weekly, or Google real-time alerts.
Source: Google Alerts allows you to choose the source for your alerts – news, blogs, web, videos, books, discussions, or finance. If you're unsure of what to select, just leave it on the Automatic setting.
Language: Set your language preference for alerts.
Region: You can also specify the location of alerts. Or, set it to Any Region, and Google will send alerts from sources worldwide.
How many: Decide whether to have only the top results emailed to you or all of the results.
Delivery to: Select the email address to which the Google Alerts will be delivered.
After you've customized the settings to your liking, click Create Alert at the bottom.
Step 3: View Your Google Alerts
You're all set to start receiving Google Alerts directly to your email. Each notification will consist of hyperlinks, leading you to the most recent material published online that pertains to your alert query.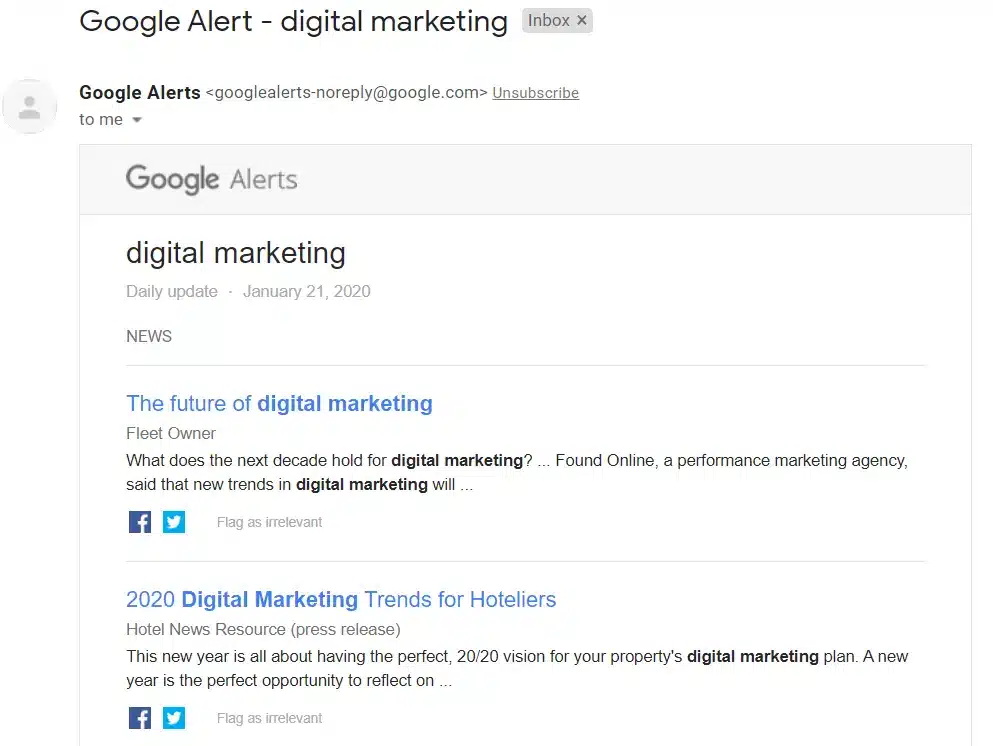 Now that you've learned how to set up Google alerts for tracking new content across the web, let's take a look at popular ways to use custom alerts for your online business.
How to Use Google Alerts
Now that you've learned how to create a Google Alert, let's go over some of the best ways to use Google Alerts to make your brand's online presence stronger, smarter, and more informed than ever before!
1. Track Your Brand Mentions to Manage Reputation
Through Google Alerts, you can monitor how your brand is perceived, and receive instant notifications every time your website or products are mentioned.
This helps you understand what people think about your business and better manage your brand reputation. Just set a Google Alert for your website, brand name, and any other related phrases such as your name.

If there is any negative feedback, you'll be instantly aware of it, so you can address and resolve it. Plus, it helps you identify areas needing improvement or new features you should consider adding to your product.
2. Discover Unique Perspectives for Your SEO Keywords
Did you know you can use Google Alerts to help your SEO (Search Engine Optimization)?
It can be a challenge to think of fresh topics or unique viewpoints to make your content stand out, but using Google Alerts, you can see what the content around your targeted keywords looks like and find unique angles to cover.
It's also a great tactic to use in making sure your content is up-to-date, giving it a boost over similar content.
Just imagine, you're planning a blog post about the latest Android products and suddenly you receive a Google news alert that a new product was announced. Now, you can incorporate that information in your article, which might just give you the edge over other search results. Plus, it may send positive signals to the search engine.
3. Monitor Your Rivals' Marketing Strategies
Setting up Google Alerts is an incredibly easy and powerful way to keep tabs on your competitors' marketing movements and gain an edge.
For example, to set up alerts for competitor mentions, you simply need to make a Google Alert for the details you want to track such as their website name, products, owner or executives, and so on.
Or, you can create a more general alert for products or brands that are similar to yours while excluding your own website.

Being in the know about your competitors' mentions online also presents potential backlink opportunities. You can target the same websites that have linked to your rivals!
Plus, monitoring your competition can help you discover fresh content ideas. Rather than creating alerts for their business names, set an alert for a competitor's blog page URL.

Then, every time your competition posts new content, Google Alerts will send you a notification. This can help you recognize and fill content gaps on your own site by creating superior content around similar topics.
4. Prevent Theft and Unlawful Use of Your Digital Property
Ever encountered the challenge of piracy while offering digital products such as software, eBooks, online courses, digital art, or other files and videos? If so, you're not alone.
Keeping tabs on the whole scope of the internet to spot potential theft of your products is no easy task, but that's where Google Alerts can come in useful.
By establishing alerts for your brand name or phrases that identify your products, you can much more easily trace the websites or individuals possibly infringing on your property rights and take necessary action.
How to Manage Google Alerts
To manage your Google Alerts or turn them off, just sign into your account at alerts.google.com. You'll see all of your alerts listed here.
You can click the Pencil icon next to an alert to edit it or change the frequency of notifications. Or, click the Trash icon to delete a Google Alert.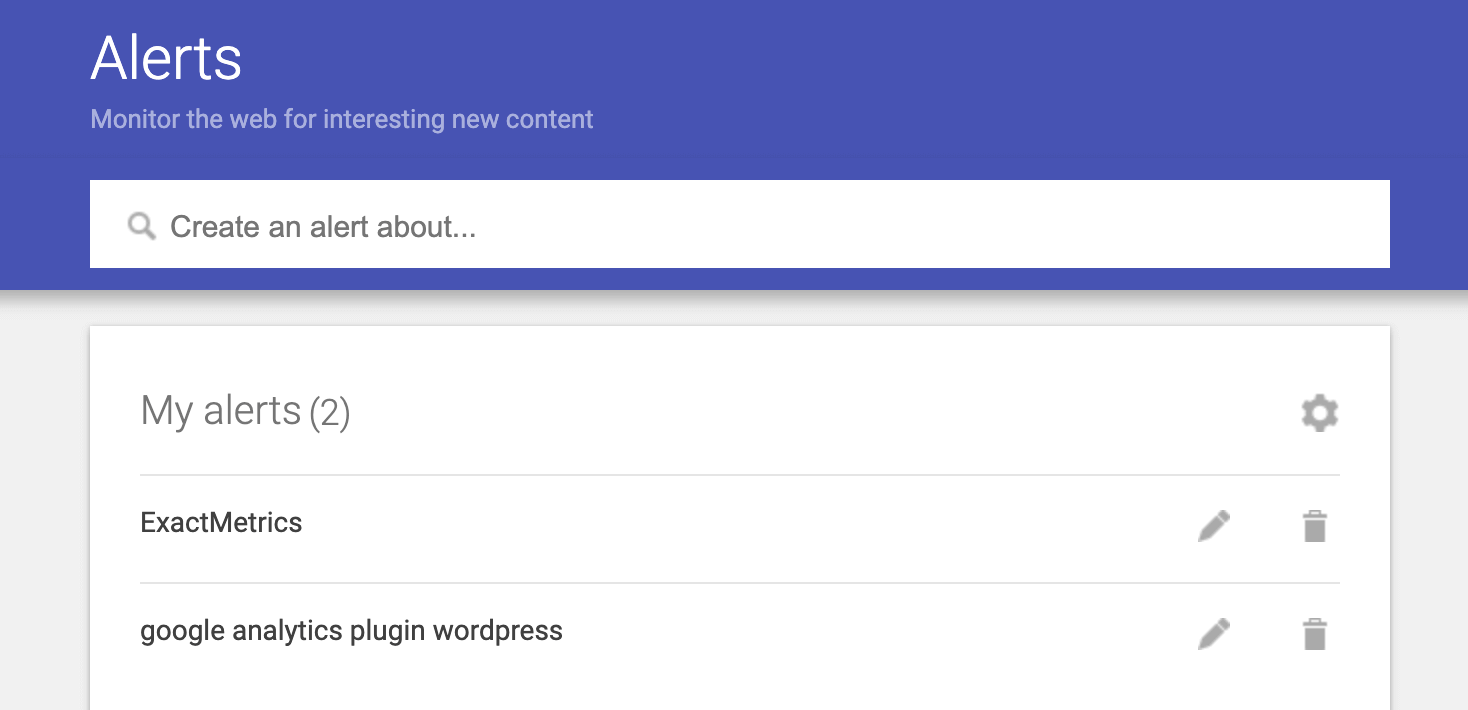 You can also edit an alert by clicking the link at the bottom of your email notification that says Edit this alert.
If you have a lot of Google Alerts for competitors, keywords, and more, it can be helpful to receive your Google Alerts in one email at a certain scheduled time where you can review all of the information. To set this up, just click the Gear icon at the top of your list of alerts.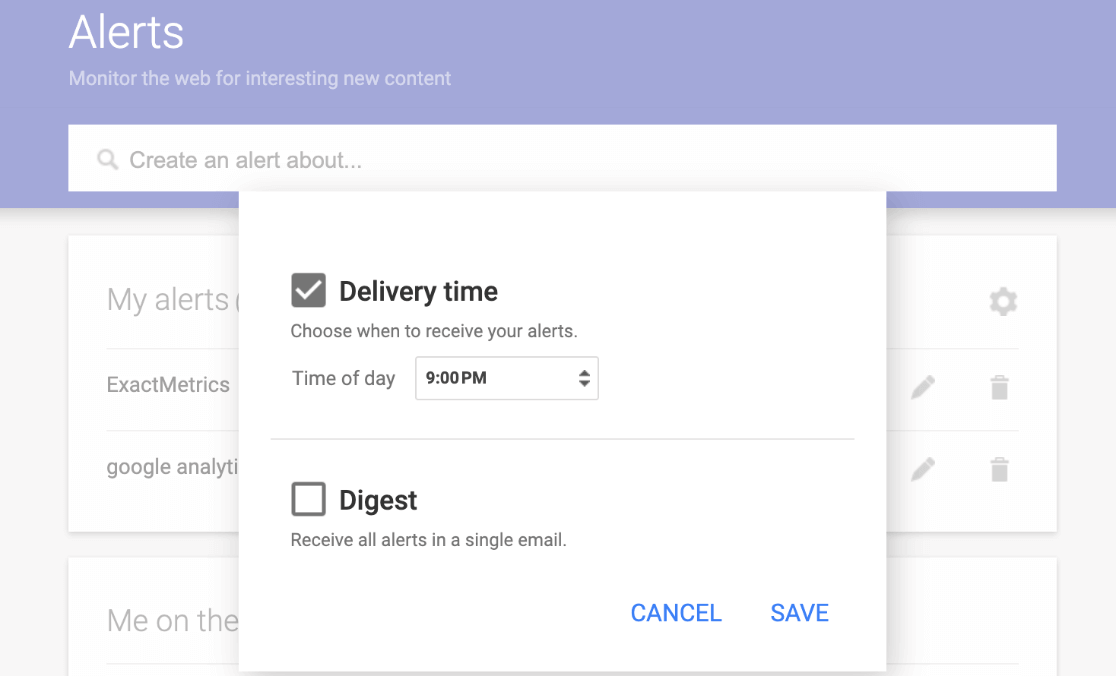 Now, you can set a regular Delivery time to receive alerts. Check the Digest box to receive all alerts in a single email. You'll then have the chance to decide whether your digest report comes weekly or daily and which email it should be sent to.
And that's it! You've successfully learned how to set up Google Alerts and use them for your business. Now, you can start monitoring content, competitors, brand mentions, and more.
We hope this article helped you learn how to create Google Alerts and sparked some ideas about how you can use this free Google tool to be more proactive with your site. You may also want to check out 30 Epic Marketing Hacks for Explosive Traffic Growth.
Not using ExactMetrics yet? What are you waiting for?
Don't forget to follow us on Twitter and Facebook to see all the latest reviews, tips, and Google Analytics tutorials.