Are you on the hunt for the perfect WordPress video plugin to enhance your website's functionality? A well-chosen video plugin can help you elevate your media content and engage with your audience like never before.
But, navigating through the huge amount of WordPress video plugins available and knowing which one to choose can be overwhelming. So, we've compiled this curated list of the best video plugins for WordPress to help you out.
Whether you're a content creator, a small business owner, a blogger, or anyone else who runs a website, you'll find the tools you need to take your WordPress media content to the next level and increase your online presence.
Before jumping in, let's answer a few of the questions we often get asked about using videos on WordPress…
Can WordPress Host Videos?
Yes, WordPress is capable of hosting videos, but that doesn't mean it's the best option. When you upload or "host" videos on WordPress, it means the files are stored on your site in the WordPress media library, which is different than embedding them.
Should I Upload Videos to WordPress?
If possible, you shouldn't upload videos directly to WordPress. The biggest problem with this method is space and bandwidth. Videos take up a lot of both, which can increase your hosting costs and slow down your site. Plus, you'll miss out on extra customization options, video quality optimization features, and potential bonus traffic from video-sharing platforms.
What Is the Best Way to Add Videos in WordPress?
The best way to add videos in WordPress is by using a dedicated video hosting service or a third-party platform like Vimeo or YouTube to upload your videos and then embed them on your WordPress site, which is very easy to do.
Alright, now that you know the recommended way to add videos to WordPress, let's dive into the best WordPress video plugins.
Best WordPress Video Plugins
On this list, you'll find the best WordPress video plugins for a variety of uses such as automatically embedding video feeds, tracking when visitors watch your videos, designing beautiful media layouts, and more.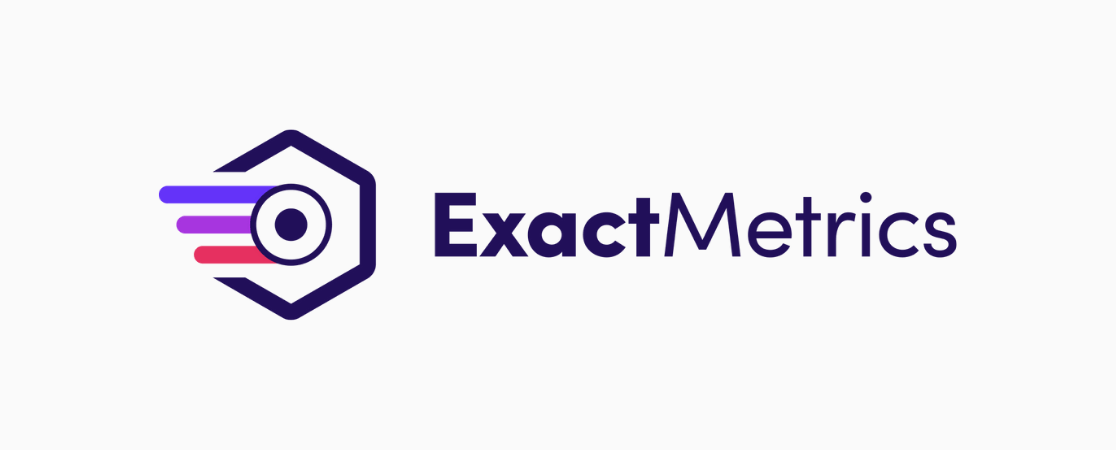 First, let's talk about the best video plugin for tracking embedded WordPress videos. Whether your videos are from YouTube, Vimeo, or HTML5 sources, you'll want to know if they're actually getting traffic. How many visitors are engaging with them? Are the majority of your website users watching them all the way through?
The ExactMetrics Media Addon can help you answer those questions and more!
ExactMetrics is the best premium WordPress Analytics plugin, allowing you to easily set up Google Analytics without editing any code or needing a complicated tool like Google Tag Manager. You get advanced tracking right out of the box with an extremely user-friendly interface and Google Analytics reports right inside your WordPress dashboard.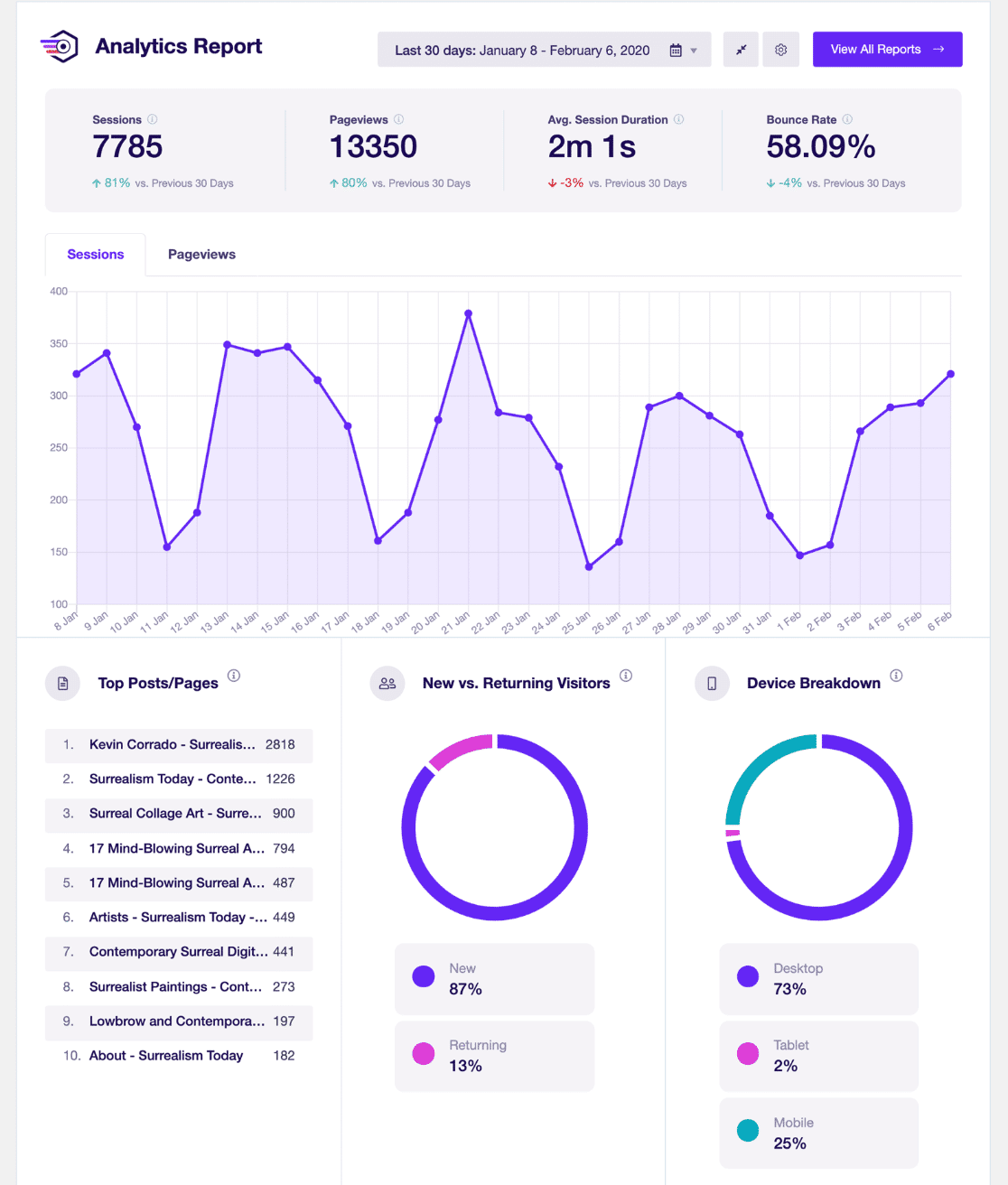 Plus, you gain access to tons of additional Google Analytics features and advanced tracking capabilities with just a few simple clicks, such as:
And when it comes to tracking your WordPress videos, get ready for a method that's both easy and effective. With a simple toggle-on in your ExactMetrics settings, you can start closely tracking video plays, average watch time, and more.

Yep, it really is that straightforward! Embedded videos are now being tracked, and all your key metrics are right there in your WordPress dashboard.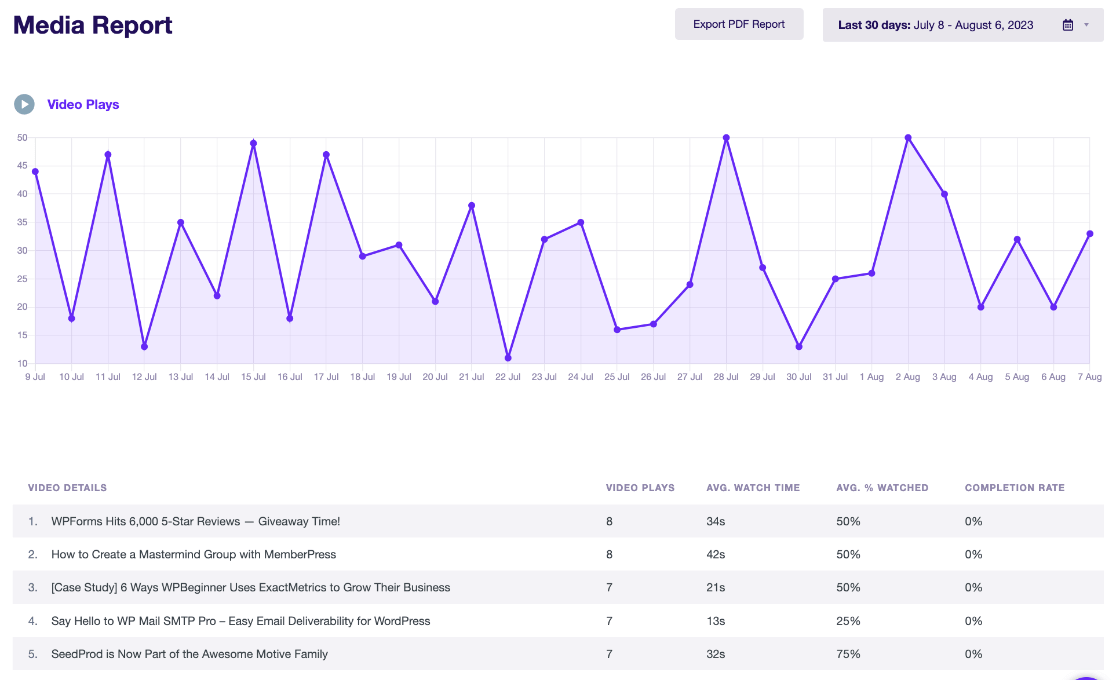 Use this data to promote your most popular videos, quickly spot content that needs improvement, and refine your video strategy with data-backed decisions. Check out our article on how to enable Google Analytics video play tracking to get the full instructions.
Pricing: You'll need the Plus plan or higher to access media tracking, which starts at $99.50 / year.
Get started with ExactMetrics today!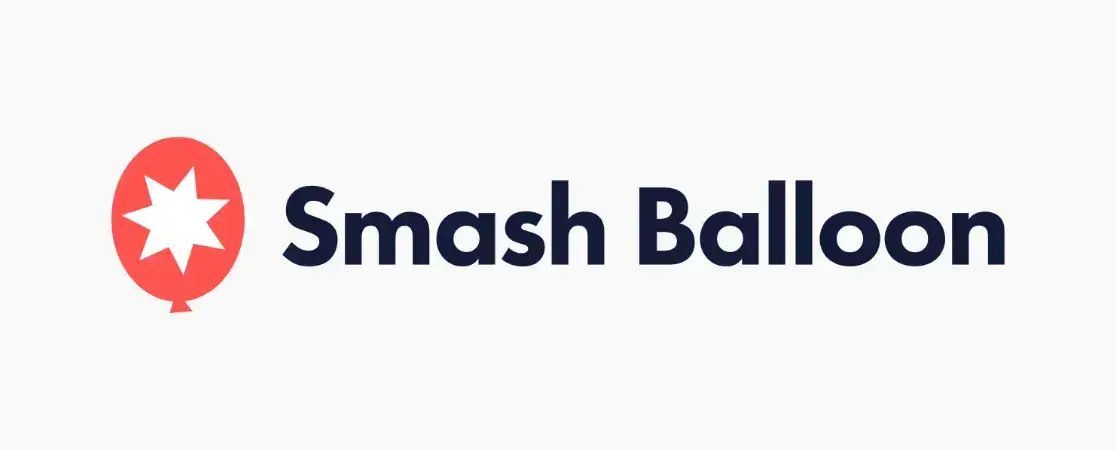 If you're looking to seamlessly integrate YouTube videos onto your WordPress website while maintaining an impressive appearance and optimal performance, Smash Balloon's YouTube Feed Pro is the solution.
As the best WordPress YouTube plugin, Smash Balloon offers a variety of responsive layouts and customization options. Its key feature is the ability to embed a YouTube playlist on your site and automatically display newly uploaded videos. You have the flexibility to create multiple feeds and show tailored content, your entire channel, or even a public playlist.
One of this plugin's notable strengths is its performance optimization. Smash Balloon is designed to prevent slowdowns that could hurt your search rankings. Most plugins automatically load video players on the page, but Smash Balloon only loads the player when a visitor actively engages with your feed. This reduces your page load time, which can boost search rankings and improve the user experience.
Check out more of YouTube Feed Pro's standout features, and try it out with the demo.
Beginner-friendly and doesn't require any coding for customizations
Mobile-responsive designs
Customizable video pause and end actions
Ability to convert videos into WordPress posts
Allows visitors to filter videos in your feed by keywords
Multiple layout options for displaying videos including grid, gallery, list, carousel, or completely customized
In addition to YouTube Feed Pro, Smash Balloon offers multiple other plugins for embedding social feeds from additional platforms (Facebook, Instagram, Twitter, and Review Sites) on WordPress plus a Social Wall to combine them all into one cohesive design on your website.
Smash Balloon is an excellent choice for anyone looking for seamless video integration between YouTube videos and WordPress. The plugin ensures your media content is always fresh and up to date, looks great, and loads fast.
Pricing: Starts at $49 / year. (Lite version is also available). If you use other social platforms, be sure to check out the bundle package.
Get started with Smash Balloon today!
Envira Gallery is a top-tier solution for those aiming to effortlessly create visually captivating image and video galleries. Whether you're looking to showcase your videos from YouTube, Vimeo, Wistia, or custom embeds, Envira Gallery offers a versatile platform that seamlessly accommodates videos from various hosting sources.
With an intuitive drag-and-drop builder, crafting engaging video galleries is easy. And, the plugin offers a range of responsive templates, allowing your video galleries to be viewed across various devices and screen sizes.
Envira Gallery also integrates with social media platforms, helping you expand your reach and engagement with just a few clicks. Plus, its fullscreen mode feature enhances the viewing experience for users.
Here are some of Envira Gallery's key features:
Categorize videos into albums, sort with unique tags, and designate cover photos
Add watermarks to videos for content security
Limit video access with passwords for gated marketing campaigns
Seamlessly integrates with WooCommerce
Video slider to present videos dynamically
Envira Gallery lets you create captivating video galleries while emphasizing simplicity, customization, and viewer engagement. Its comprehensive feature set, ranging from intuitive design tools to security enhancements, makes it a perfect video plugin for anyone looking to build a beautiful video gallery on WordPress.
Pricing: Plans start at $26 / year (Lite version is also available)
Get started with Envira Gallery today!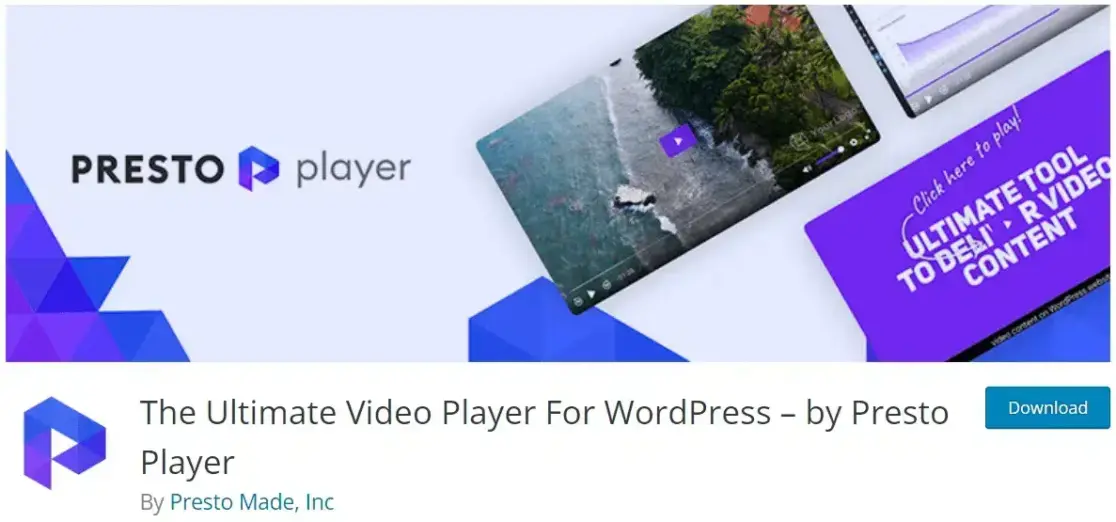 Presto Player stands out as a feature-rich video player for WordPress that offers great compatibility with YouTube, Vimeo, and HTML5 videos. The plugin is designed for the WordPress block editor, but it also works with the classic editor or popular page builders Elementor and Beaver Builder.
Here are some of Presto Player's key features:
Sticky Video Player
Autoplay option to enable videos to autoplay upon page load.
Video player color customization to match branding
Audio player feature to embed sound-only content
Presto Player also offers a pro version for extended capabilities such as the ability to insert video chapters, add video overlays, integrate online course videos with LMS and membership sites, and secure private videos.
Pricing: Free (Paid plans available).
Get started with Presto Player today!
All in One SEO or AIOSEO is the best SEO plugin for WordPress and an excellent tool for optimizing your video content to rank in search results and get more organic traffic.
Aside from all of the amazing SEO features for the rest of your site, AIOSEO goes beyond the basics when it comes to video SEO. The plugin offers the ability to generate specialized video sitemaps, which provide a pathway for Google's search crawlers to index and rank your videos.
Another cool video SEO feature is that AIOSEO lets you add schema markup to videos. This means that search engines can display rich snippets for your videos when they show up in search results. These snippets provide essential context and information about your videos. This entices users to engage with your content and improves your CTR (click-through rate), which ultimately drives more organic traffic to your website.
With AIOSEO, you're not only gaining a video SEO solution but also an array of other invaluable SEO tools and features such as:
With AIOSEO, you're not just investing in video SEO, you're getting a comprehensive toolkit to enhance your entire website's search performance. We highly recommend it to any site owner looking to increase organic traffic and get their videos to rank in search.
Pricing: You'll need the Basic plan or above to access video SEO features, which starts at $49.60 / year.
Get started with AIOSEO today!
Easy Video Player is a totally free video player plugin with a feature set that rivals premium alternatives. At the core of the tool is shortcodes. After installing the plugin, you can edit the shortcode to include your video or file URL and then use that code to embed videos on your WordPress site
Shortcodes also serve as your canvas for tailoring video displays. For example, you can set an autoplay function and other appearance options all from the embed code. Here are some of Easy Video Player's popular features:
Supports videos from third-party platforms or personal uploads
Flexible shortcodes and the ability to use classes to customize the video player
Autoplay, loop play, and muted enabled options
Mobile responsive
Ability to embed videos with poster images
Easy Video Player is a versatile plugin for controlling your video display. That said, you'll need to have a pretty in-depth understanding of shortcodes to make use of it. If you're used to using shortcodes or don't mind reading up on the plugin's documentation to learn, it's a great free option.
Pricing: Free.
Get started with Easy Video Player today!
WP Video Lightbox is a free WordPress video lightbox plugin that's a good option if you're looking for a simple, lightweight video player to display videos in a lightbox overlay format. You can host videos on any popular platform and use the public link to embed videos on your website page with a shortcode.
Here are a few of this lightbox-based plugin's main features:
Supports videos, animations, and slideshows
Supports video autoplay
Automatically retrieves thumbnails
Option to enable or disable video titles
Ability to customize lightbox opacity and animation playback speed
WP Video Lightbox is a simple lightbox player that makes it easy to add video content to WordPress with a shortcode. Since the plugin is so minimal, you won't need to worry about it slowing down your site. It can be a great choice for users who need a straightforward way to add a few lightbox-style videos to WordPress.
Get started with WP Video Lightbox today!
What Is the Best Video Player for WordPress?
If you host videos on YouTube, Smash Balloon's YouTube Feed Pro is the best video player for WordPress. Its performance optimization features make it a standout choice for increasing page load time and search ranking without sacrificing features or design.
The automated feeds, variety of design customizations, and options to tailor content make it an excellent choice. Plus, we love that you can add Smash Balloon's bundle of social platform plugins to create a completely customized social wall on WordPress.
If you don't use YouTube to host your media, many of the other video player plugins on our list are great options, and Envira Gallery is another one of our favorites. No matter which plugin you choose for playing videos on WordPress, we definitely recommend using AIOSEO to optimize your video SEO and ExactMetrics to track your video plays with Google Analytics.
Looking for more WordPress video plugins? Check out these additional video players that didn't make it on our main list:
Well, that's it for now!
If you enjoyed learning about the best WordPress video plugins, you'll definitely want to check out our list of the Best Social Media Analytics Tools (Free and Paid)
Not using ExactMetrics yet? What are you waiting for?
Don't forget to follow us on Twitter and Facebook to see all the latest reviews, tips, and Google Analytics tutorials.