Want to learn how to track website traffic in Google Analytics? You've come to the right place!
Google Analytics is a powerful tool that helps you gain insights into various aspects of your website visitors' behavior – from the sources that led them to your site to the time they spent exploring your content and the specific pages they engaged with.
As a key part of business growth and performance, website traffic tracking can help you make informed decisions to supercharge your digital marketing strategy.
In this article, we'll go over a number of important traffic-tracking strategies and walk you through how to track website traffic in Google Analytics. Ready to get started?
Guide to Website Traffic Tracking
How to Measure Traffic to a Website
To accurately measure traffic to your website, you'll want to rely on Google Analytics. This free web analytics tool provides valuable data about your website's visitors and their interactions with your site. By analyzing this data, you can make data-driven decisions to improve your business. Here are just a few of the things you can uncover:
Where your traffic is coming from: See which channels send visitors to your site and focus your marketing efforts on your top sources to get more traffic.
Audience preferences: Find out where your visitors are located, which devices they use, and more to better understand their needs and optimize your content.
Campaign performance: Track traffic and leads from your marketing campaigns to see what's working best and what you need to improve.
Which pages are driving traffic: Find the pages that are bringing visitors to your site, keeping them engaged, and driving conversions so you can promote those pages and improve content that isn't performing as well.
Wondering how to track website traffic on a website that isn't your own, you'll need to use a different tool. Jump down to the last section to see how to check traffic on a competitor's website.
How to Track Website Traffic in WordPress
As helpful as Google Analytics is, it's not the most beginner-friendly tracking system. It requires some coding to get set up correctly, and it can be really time-consuming learning how to navigate the tracking software, create and access reports, and set up advanced tracking to get the data you need.
Luckily for WordPress site owners, ExactMetrics provides a much easier way to set up Google Analytics, view website traffic, and get all of your most important reports like traffic sources, pageviews, demographics, and more right inside your WordPress dashboard.
Don't have a WordPress site? Skip to the next section.
As the best premium WordPress Analytics plugin, ExactMetrics allows you to easily set up Google Analytics without editing any code or needing a complicated tool like Google Tag Manager.
You get advanced tracking right out of the box with an extremely user-friendly interface and access to tons of additional Google Analytics features and advanced functionality with just a few clicks such as forms tracking, eCommerce tracking, video play tracking, and lots more.
After you install and set up ExactMetrics on your WordPress site, you can easily find user-friendly traffic reports with tons of valuable metrics. Let's take a closer look at a few of them.
Overview Traffic Stats
To view overall website traffic, head to ExactMetrics » Reports » Overview from your WordPress admin menu. Here, you can see sessions, users, pageviews, average session duration, and a graph of your WordPress traffic for the selected date range.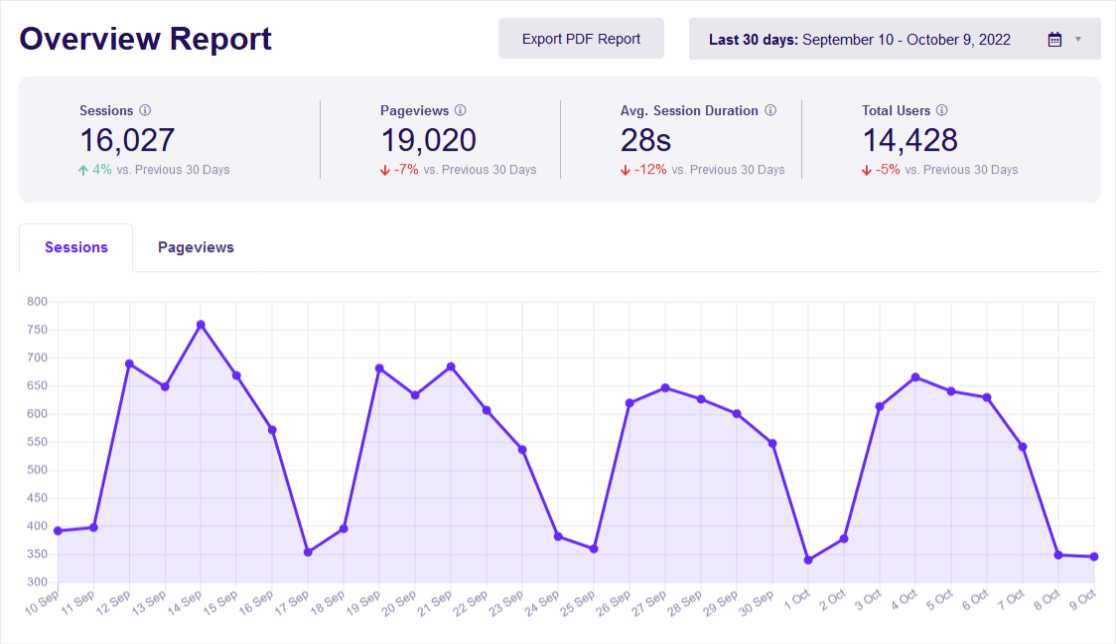 Below the traffic graph, you'll find other important reports like New vs. Returning Visitors and a Device Breakdown. Quickly gauge how much traffic is coming from first-time visitors and which devices are most common among your users.

Keep scrolling to find more data on where your traffic is coming from. You'll see the Top 10 Countries report and Top 10 Referrals.

When you know where your visitors are geographically located, you can create region-specific content and campaigns to increase traffic and ensure your website is translated for those languages.
The top referrals report shows which websites and social media networks are sending the most traffic to your site, which can help you find more affiliate opportunities.
Wondering how to track website traffic on your most popular pages? You'll find pageviews at the bottom of the Overview report under Top Post/Pages.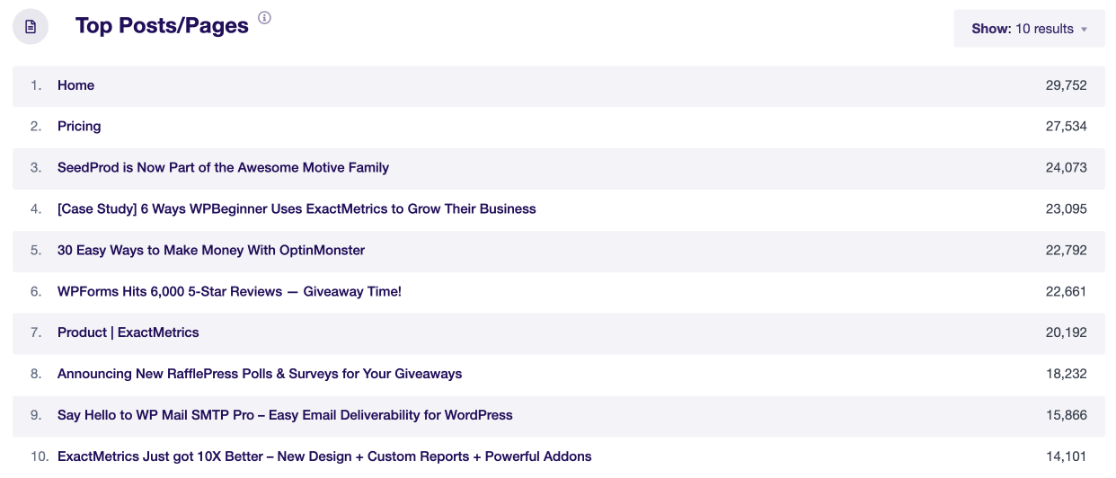 Traffic Sources
Wish you could see where your traffic is coming from without leaving WordPress? Just click Traffic » Source/Medium. Here, you can see the channels that send traffic to your site along with helpful metrics like engaged sessions, conversion rate, and more.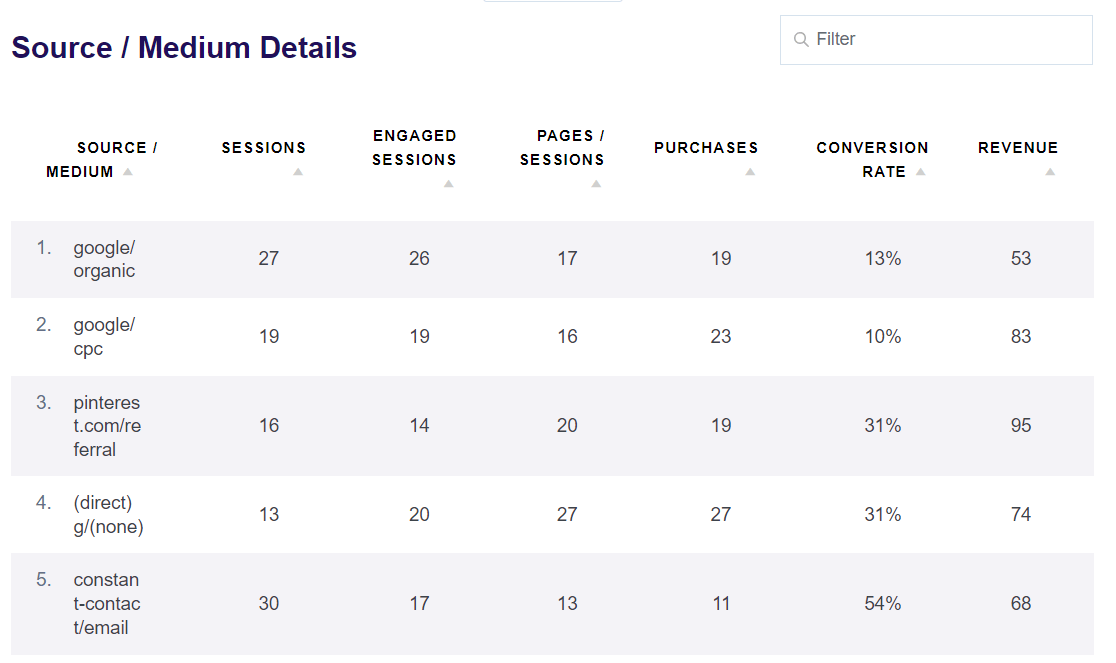 Traffic by Search Query
Do you know which search queries bring organic traffic to your site? You can check which keywords your site is ranking for with ExactMetrics' Search Console Report.
You'll see the Top 50 Google Search Terms your site is ranking for along with the number of clicks, impressions, CTR (click-through rate), and average position.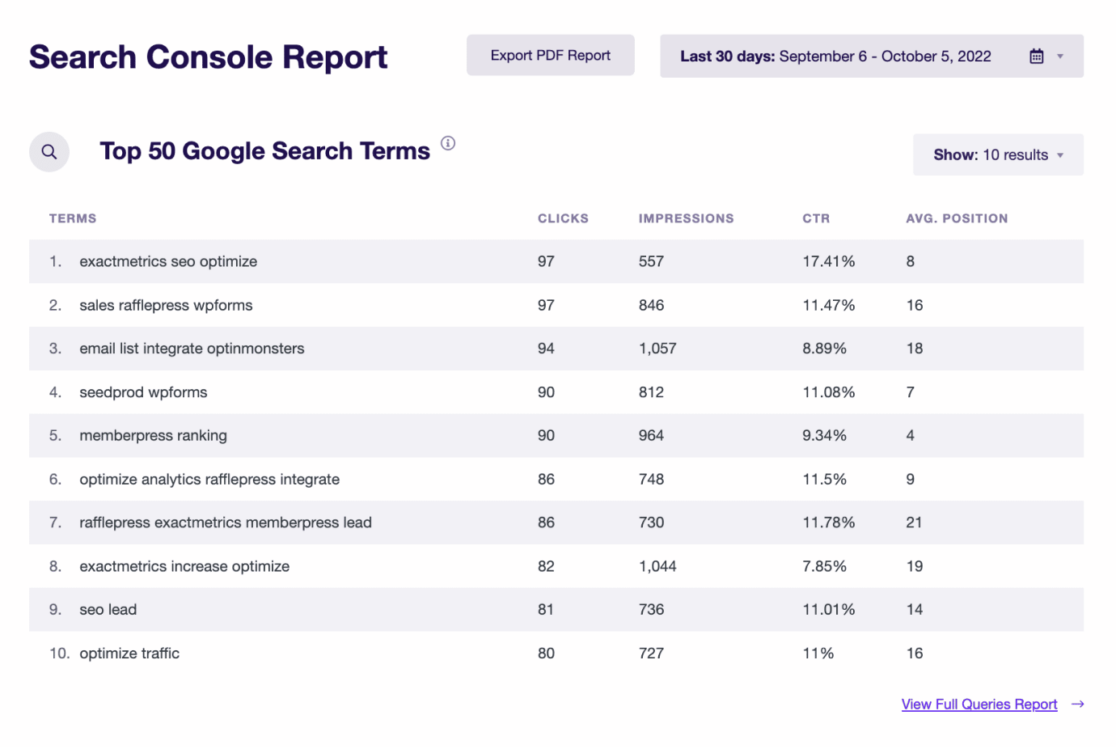 By knowing which keywords are bringing organic traffic to your site, you can find keyword opportunities where a term is ranking on the 2nd page of SERP and could move up to the first page with a little SEO optimization. You can also look for similar keywords and come up with new content ideas based on your high-ranking keywords to get more organic traffic.
Check out our tutorial to learn how to connect Google Search Console to Google Analytics and access this report.
eCommerce Traffic Checker
If you run an eCommerce website, ExactMetrics can show you all kinds of important reports on your store's performance, including your Top Conversion Sources.
This shows you which websites are sending high-converting traffic to your online store. Then, you can create tailored promotions to get even more sales, such as offering an exclusive discount to users from these sites.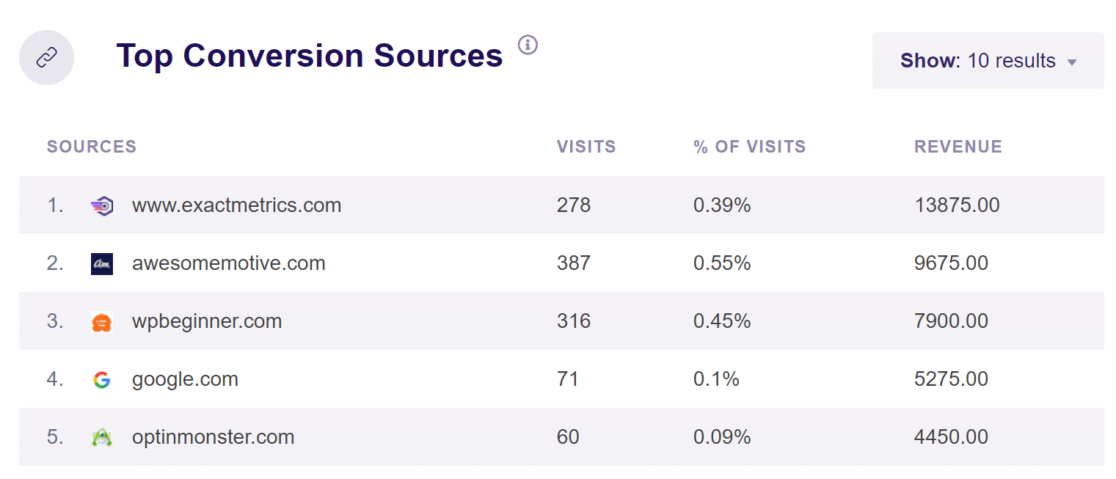 Check out this article to see more reports and learn how to track website traffic for eCommerce.
Real-Time Traffic Analysis
Want to look at your website analytics in real time? See how many visitors are on your site right now with the Realtime report.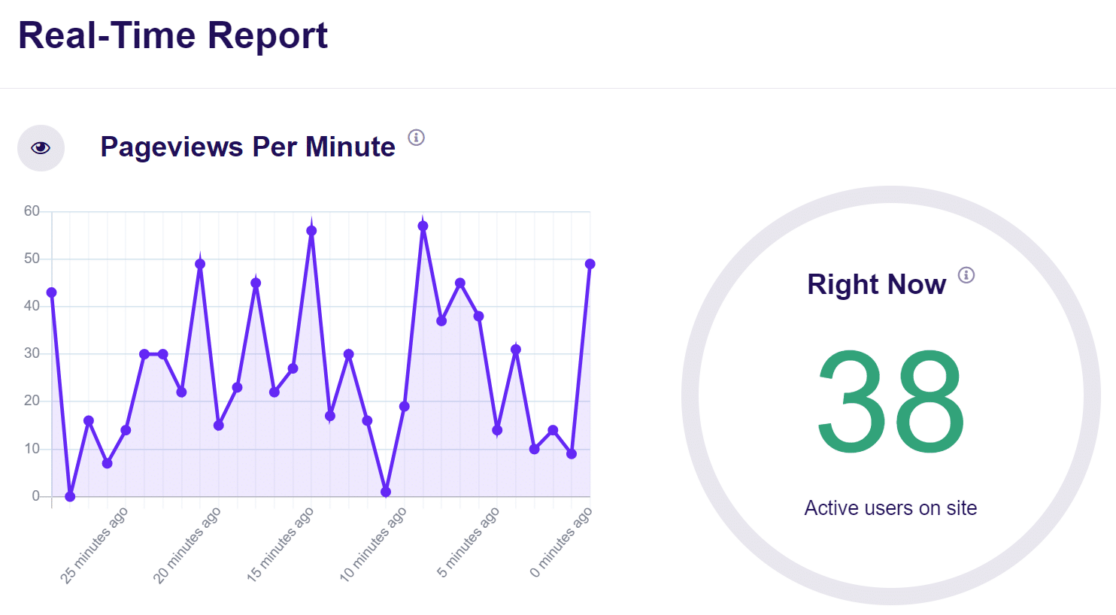 This report will also show you which countries and cities your current visitors are from and the top pages being viewed. It's a really handy way to check traffic after launching a new campaign or product to see if there's an uptick in traffic on specific pages or from certain regions.
Aside from the reports we've already covered, ExactMetrics gives you a bunch of additional reports such as Campaigns, Landing Pages, Forms, Site Speed, Media, and more.
How to Track Website Traffic Using Google Analytics
ExactMetrics provides an easy way to see tons of information about your website visitors and traffic without needing to leave WordPress. But, if you want to see traffic stats in Google Analytics, we'll show you how to track website traffic in GA4 next.
How to See Where Traffic Is Coming From?
First, let's go over how to see where traffic is coming from. To start, log in to your Google Analytics account. Navigate to Acquisition » Traffic Acquisition and scroll down to the table.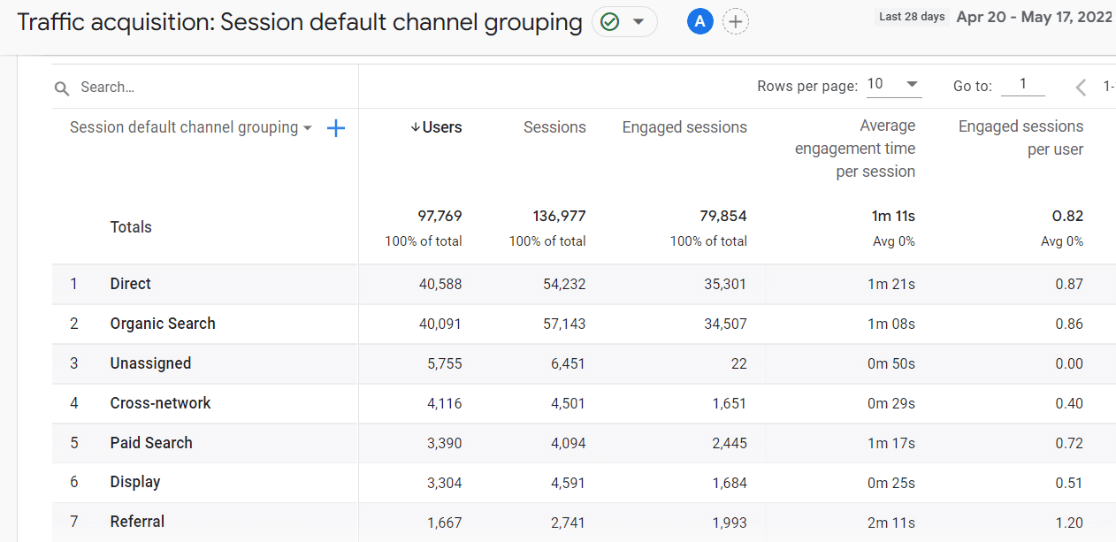 In this report, you'll see how much traffic is coming from each channel such as the number of visitors who came from paid or organic search, how much direct traffic you have, etc. Plus, you can see which traffic channel has the highest engagement, most conversions, and more.
Pro Tip: ExactMetrics users can find their overall traffic channel report in WordPress under Reports » Traffic » Overview.
Want to see more information about where visitors are coming from? While still in the Traffic acquisition report, click where it says Session default channel grouping at the top of the first column.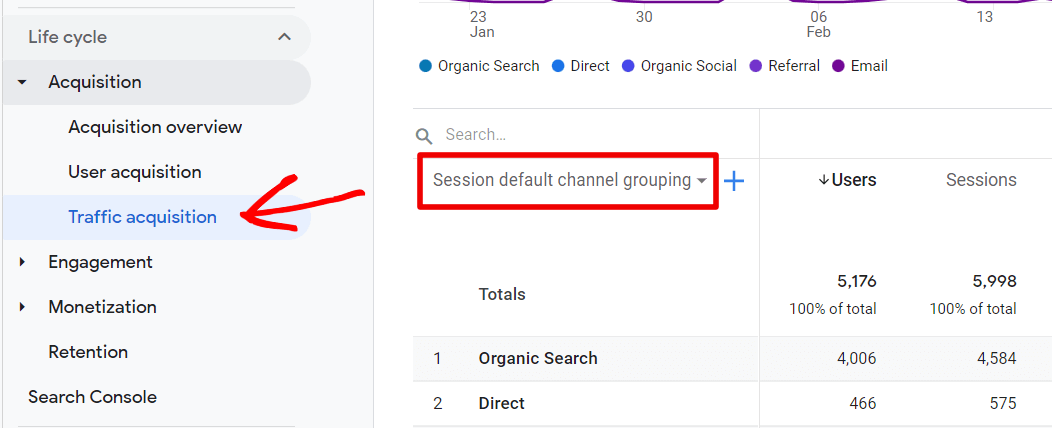 Use the dropdown menu to select Session source/medium. This will give you details about the sources contributing to each traffic channel. For example, see the search engines bringing in PPC ad traffic, the websites sending referral traffic, and more.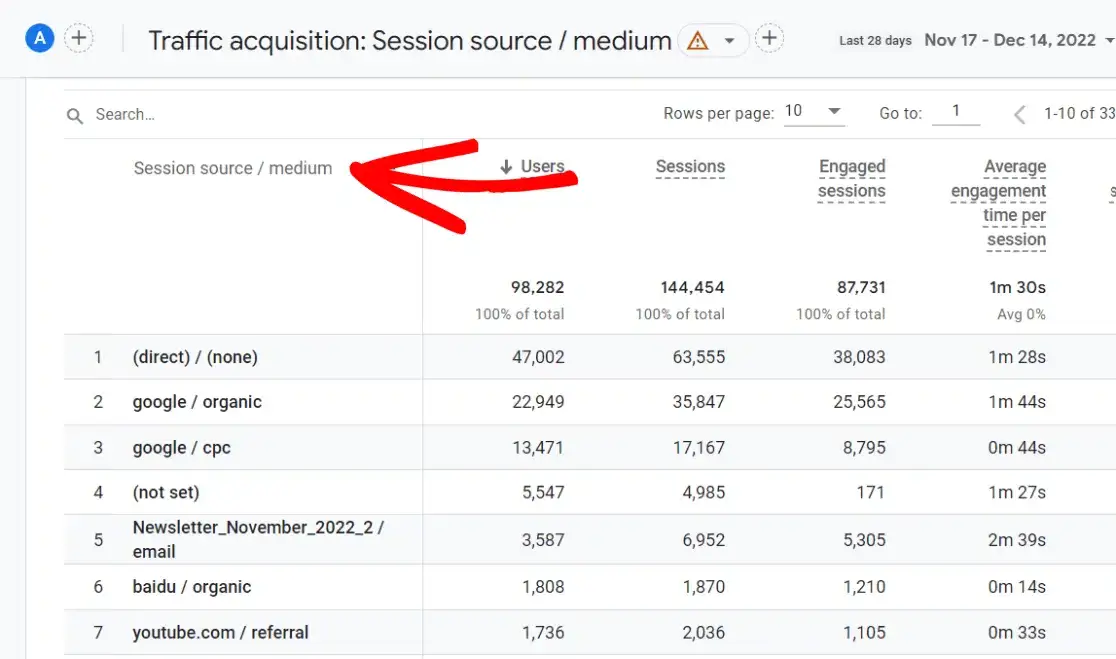 Now that you know how to find your traffic sources in GA4, let's find out how to view website traffic on specific pages.
How to Check the Traffic Stats of Specific Pages?
To see traffic for specific pages on your site, navigate to Engagement » Pages and screens. In the table, you'll see all of your pages along with the total number of views and users.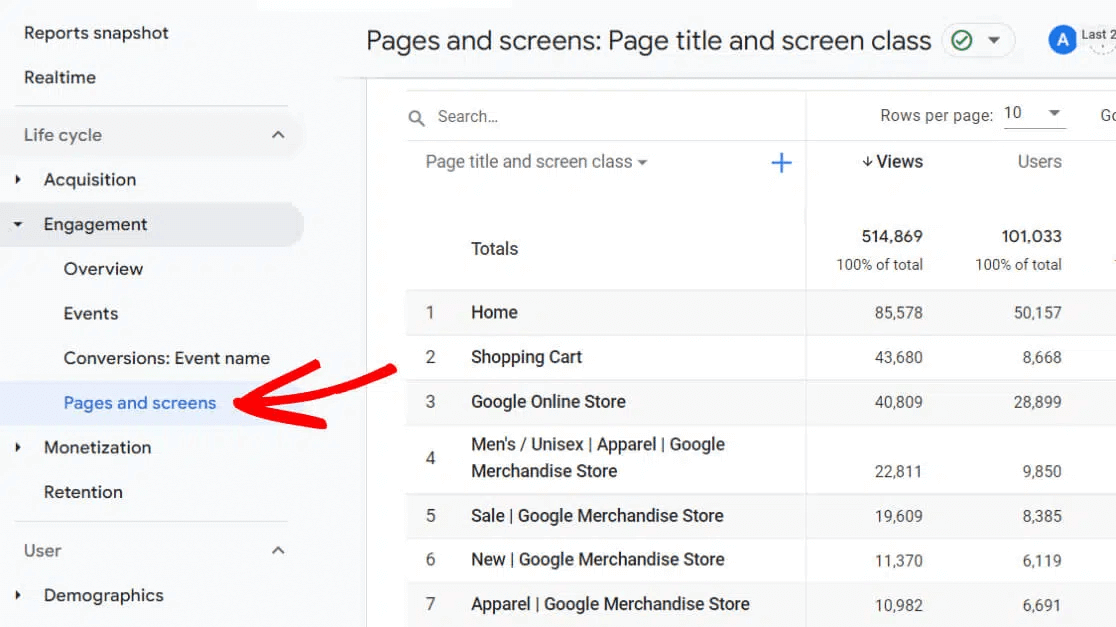 If you want to see a deeper website traffic analysis, click the + sign next to where it says Page title and screen class. (Note that it might say Page path and screen class if you're viewing pages by URL instead of title. You can use the dropdown menu to change this if you'd like).
After clicking the + sign, select Session source/medium to add it as a secondary dimension. Now, you'll have a report showing the traffic on individual pages by source.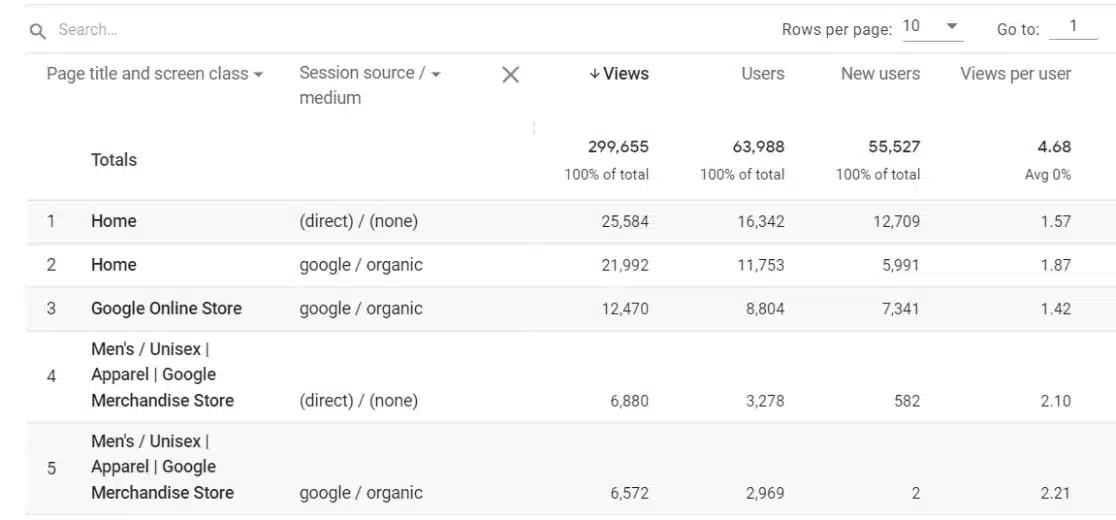 Want to see page metrics for traffic coming from a specific source or medium? Just use the search bar in the table. For example, type "organic" to only view page traffic coming from organic sources.
What Report Lists the Website Pages Where Users First Arrived?
You can change the Pages and screens report to list the pages where users first arrived, also known as landing pages. Scroll sideways in the table to the column titled Event count. Click the dropdown that says All events and change it to first_visit.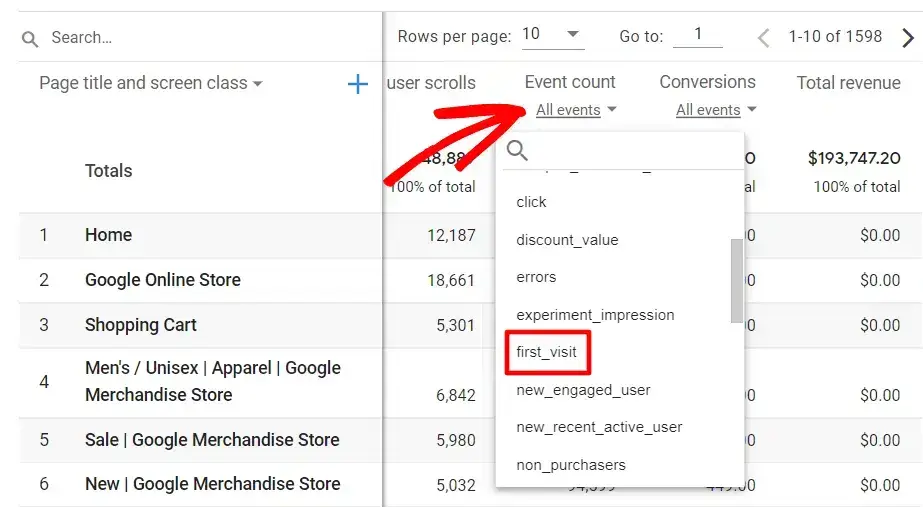 Then, click the arrow next to Event count to sort your pages by landing page visit events.
Now the table shows the number of landing page visits for each page by source/medium.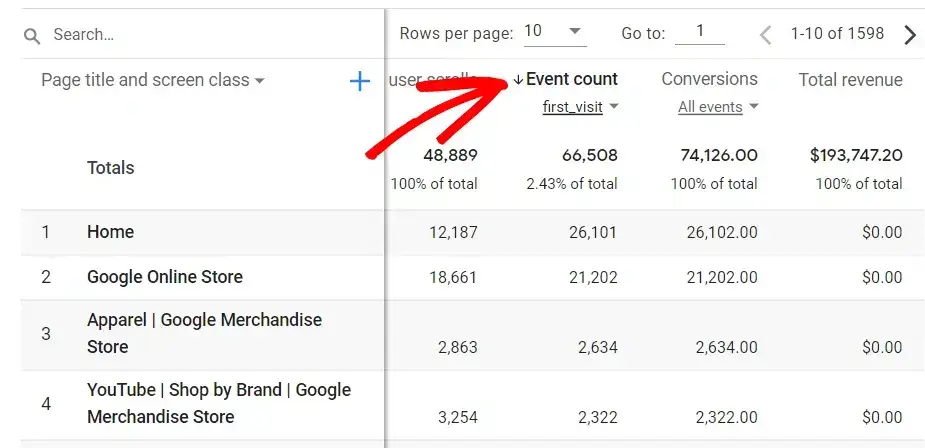 Pro Tip: If you're using ExactMetrics, you can see your Top Landing Pages along with traffic, conversions, and more without leaving WordPress. Just go to Reports » Traffic » Landing Page Details. Alternatively, you can check out our tutorial to learn how to add a landing page report to your navigation in Google Analytics.
Looking for more ways to track website traffic in Google Analytics? Check out our article on 12 Key Google Analytics Metrics Every Business Should Track.
How to Check Competitor Website Traffic
You've learned how to track website traffic on your own site, but what about a competitor's site? Google Analytics won't provide much help for tracking a site you don't own, but there's other tracking software you can use. Here are a few of the best traffic-tracking tools for checking competitor's traffic.
Semrush: Offers keyword research tools, a website ranking checker with organic keyword position tracking, and robust features for competitor analysis, backlink tracking, and more. It's the best tool for comprehensive SEO insights, keyword research, and competitor tracking.
Ahrefs: Similar to Semrush, Ahrefs provides SEO tools and features to improve search rankings, research keywords, analyze competitors, and more. It also offers a free website traffic checker online where you can enter a URL and get an estimate of organic traffic, top keywords, and top countries for any webpage or domain.
Semrush and Ahrefs both provide tons of advanced functionality and they're awesome choices for in-depth SEO, organic traffic analysis, and competitor tracking. Although both tools do offer free versions, what if you just want a simple way to check overall traffic on other websites?
How to See How Many Hits a Website Gets?
As another popular tool for website traffic tracking and SEO, SimilarWeb offers a convenient browser extension. It's one of the best free website traffic checkers, providing a really handy way to see how many hits any website gets.
While viewing the site, SimilarWeb's extension shows traffic estimates, overall rank, and breakdowns by country and traffic source. To give you an example, we used the extension on Odoo, a platform for open-source business apps.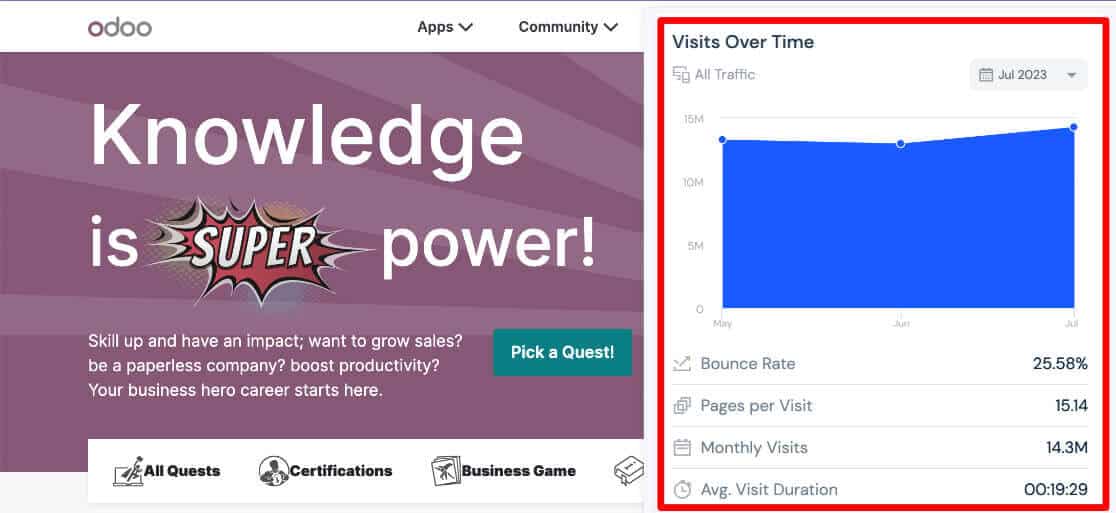 And that's it!
We hope you enjoyed learning how to track website traffic in Google Analytics. Do you have a WordPress site?
If you enjoyed this article, be sure to check out 10 Best Social Media Analytics Tools (Free and Paid).
Not using ExactMetrics yet? What are you waiting for?
Don't forget to follow us on Twitter and Facebook to see all the latest reviews, tips, and Google Analytics tutorials.