Ever wonder the journey your visitors take before they convert or exit your website? With User Flow reports in Google Analytics, you can learn about the path a visitor takes before reaching its destination.
These reports are super useful if you're trying to optimize your site for conversions. They help you improve the overall user experience and highlight any pages where a lot of people might be leaving your site instead of converting.
So, in this article, we'll breakdown Google Analytics user flow, what it is, how you can find the reports, and show an easier way of understanding your users in WordPress.
Let's start…
What is User Flow?
The User Flow report in Google Analytics is a visualization of the path a user takes on your website. It shows where the user came from, which pages they visited, and from where they left your site.
So, if you ever questioned how do I track a user journey in Google Analytics, then User Flow report is your answer. Using the graphical representation of your visitors' journey, you can set up a sales funnel.
Besides that, it helps you segment your visitors into different groups based on country, device, browser, campaign, and more. And you can see which pages have the highest through traffic (it's the number of people that visited another page) and where there are drop-offs.
Then using the data, you can optimize your website for conversions, improve user experience, and lower drop-offs.
How to Use User Flow Reports in Google Analytics?
Now that you know what User Flow is and why it's important, let's see how you can find and use the report in Google Analytics.
To start, login to your Google Analytics account. Then navigate to Audience » User Flow from the options on your left. Here you can see the journey your visitors take on your website.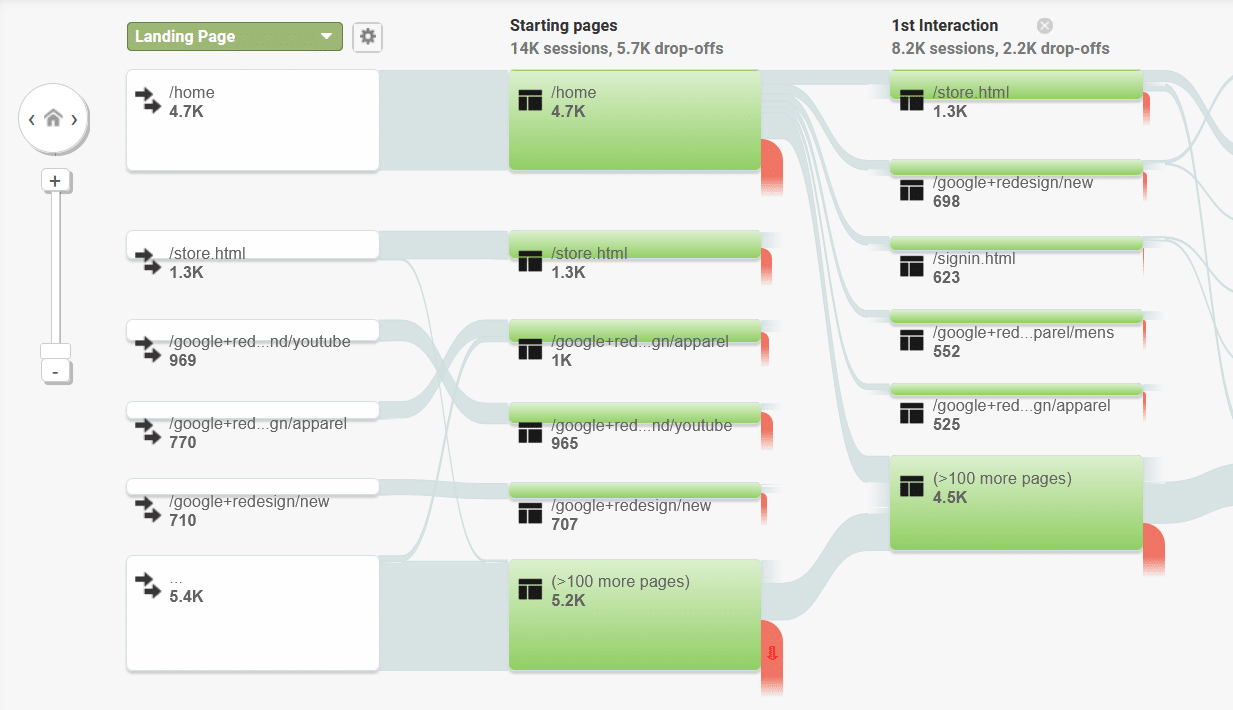 Look at Through Traffic and Drop-offs
Now if you hover over any of the boxes, you can see the total number of sessions for the selected date range. And it also shows you the breakdown of users that visited another page (through traffic) and the number of people that left (drop-offs).
The grey lines also represent the through traffic. So, thicker the lines, the more people go to the next path. On the other hand, the red lines show drop-offs.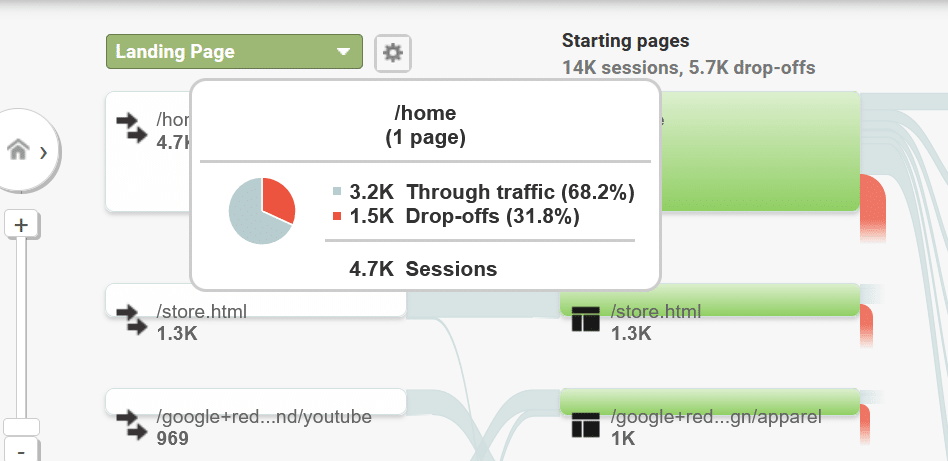 Change Dimensions
Next, you can change the dimension to see the journey of your audience. By default, Google Analytics will show user flow based on the Country. But you can change it to any dimension you want.
For instance, if you want to see the behavior flow based on different pages people visit, then select the Landing Page dimension. Just click on the dropdown menu and search for the dimension you want to use.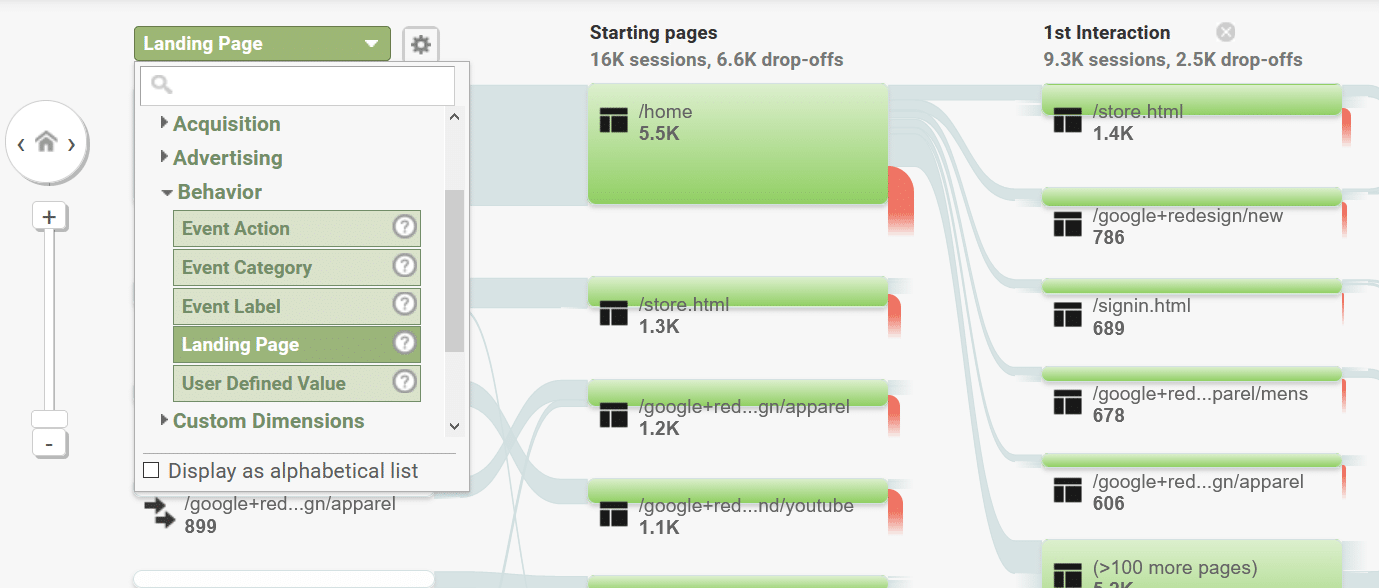 Add a Segment and Narrow Down User Flow
The User Flow report will be for all users by default, but you can add segments in Google Analytics to view the path for different audiences.
And if you left-click on any of the boxes, you get more options to get deeper insights. For instance, you can select Highlight traffic through rate, and Google Analytics will make the pathways prominent for people that visit different pages.
But if you want to see the behavior flow for a particular group, just select View only this segment. Analytics will then only show the pathways for users from that segment.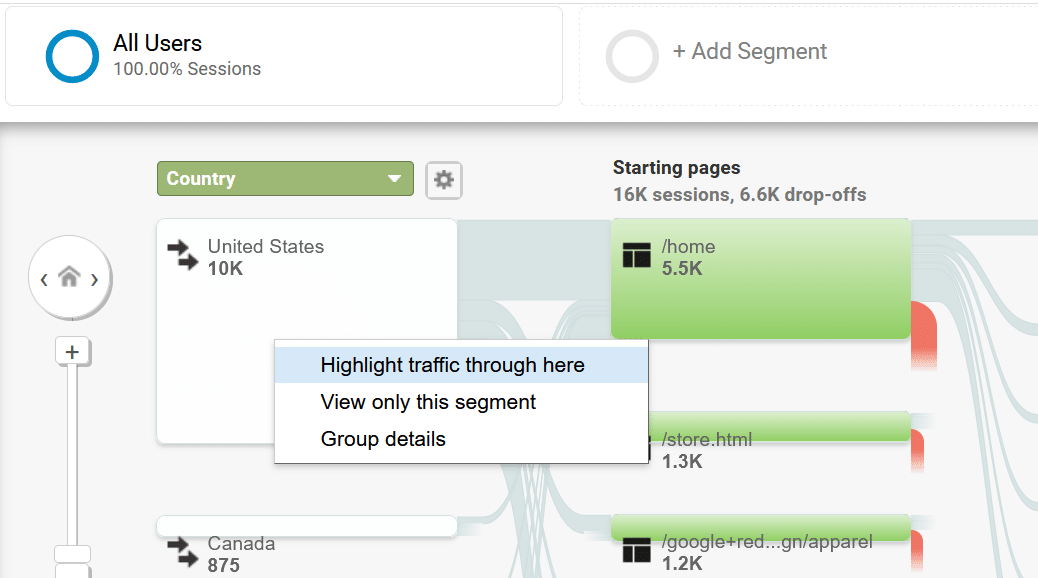 With that, you can now easily perform behavior analysis on your website and see the customer journey. But what if you want to see the user flow insides your WordPress dashboard?
How to Use ExactMetrics for Behavior Flow Analysis?
If you have a WordPress website, then there's an easier way of understanding your visitors. And that's through ExactMetrics, the best premium Analytics WordPress plugin.
You can use it to add Google Analytics to your site without any coding. And using its simple and clean reports, you can find out how people behave on your website inside your WordPress dashboard. No need to switch windows and leave your site.
Now let's look at different ExactMetrics reports you can use for user flow analysis.
Overview Report
The first report you will see in ExactMetrics is the Overview report. Here, you get a quick summary along with important metrics for your website.
And to learn about your visitors' journey, you can look at New vs. Returning Visitors report. It shows the percentage of people that are new on your website and those that come back to your site.
While new visitors are good for your website, but returning visitors have a higher chance of buying products and making a transaction. So, using the statistic, you can find ways to bring back people.

Alongside new and returning visitors, you can also look at the Device Breakdown report. It shows which device your users use to view your content. This report is helpful for optimizing your site's user experience and make sure it works smoothly on all platforms.
Now if you scroll down a bit, you'll see Top 10 Countries and Top 10 Referrals report. These two reports show the source of your web traffic. You can see which region most of your visitors are from and which referral sources send the most traffic to your site.

Publishers Report
The next report ExactMetrics offers is the Publishers report. And the first metrics you can see are your Top Landing Pages. It shows you your best content posts along with their total visits, average duration, and bounce rate.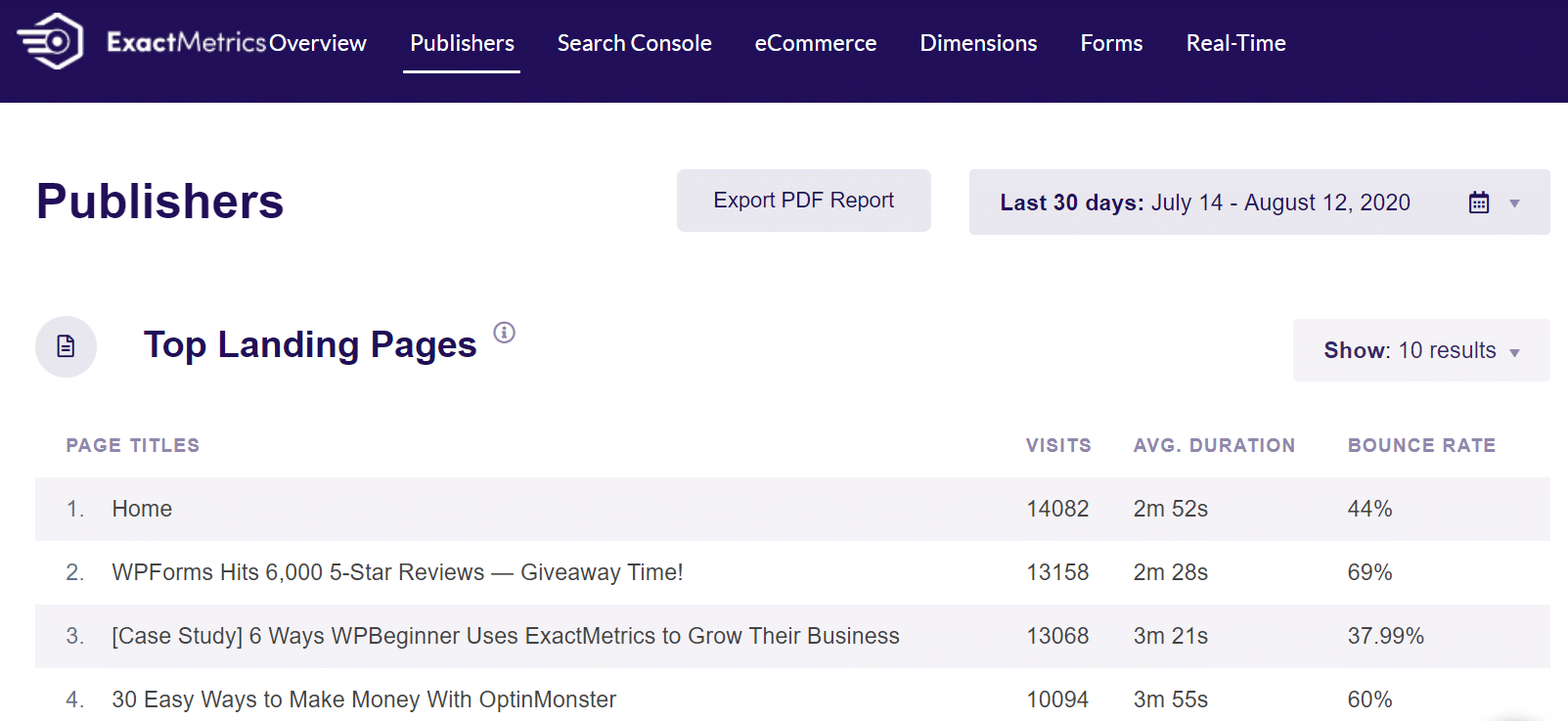 And if you want to see from where people leave your site then you can look at the Top Exit Pages. Looking at this report, you can see whether people are exiting after checkout or leaving from a page they shouldn't.
It helps you optimize your website and content to send people forward to the right page and boost conversions. The report shows you a number of exits, page views, and percentage of exit for each page.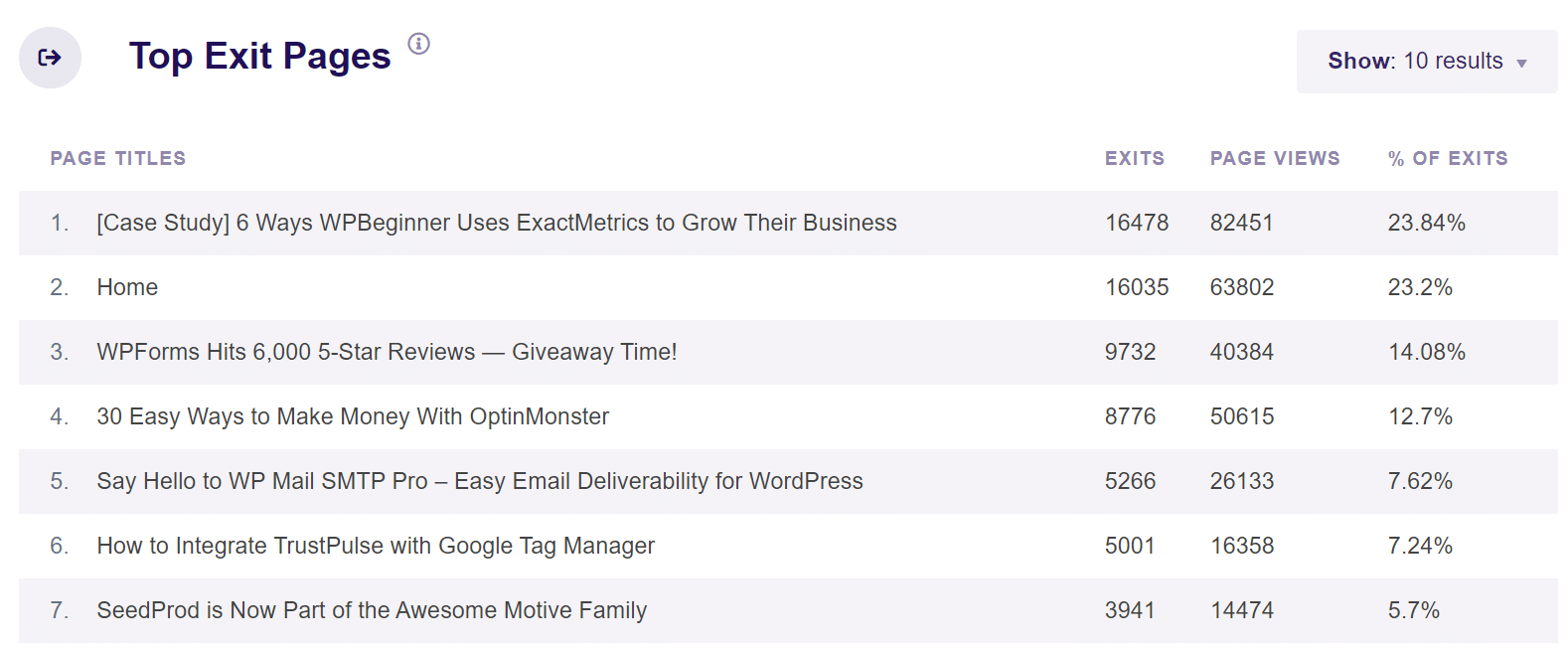 You also get more reports under Publishers in ExactMetrics such as demographics. Besides that, you can see your top affiliate links and outbound links. And if you have downloadable content on your website, then you can view the Top Download links.
Search Console Report
Now, ever wonder which organic keywords drive the most traffic to your site? By viewing the Search Console report in ExactMetrics, you can view the Top 50 Google Search Terms for your website.
For each keyword, the report offers the number of clicks, impressions, CTR (click-through-rate), and average position. It helps you sharpen your SEO strategy by improving your site's rankings on keywords that are close to the top.
Not only that, but you can find new keyword opportunities and target them on your website for more organic traffic.
But for user flow analysis, the report helps you understand which queries people often type in Google to visit your site. You can then optimize your high traffic pages for conversions.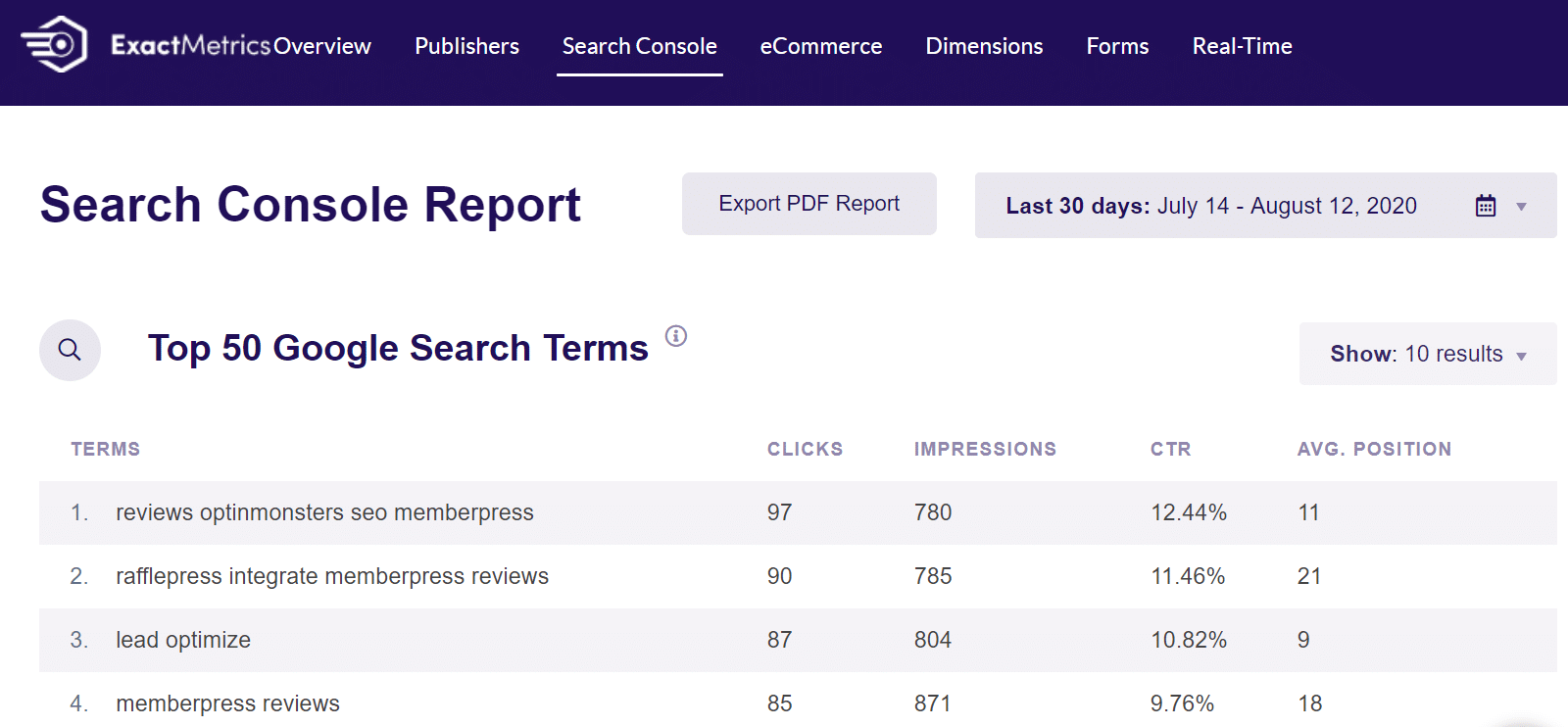 And that's all, folks!
By understanding how people behave and interact with your website, you can boost your sales, get more people to visit your site, and provide a better user experience.
We hope you liked our article on Google Analytics user flow. You can also go through our post on how to track google analytics custom events.
Don't forget to follow us on Twitter and Facebook to get to know the latest tutorials, blogs, and news about WordPress and Google Analytics.